Latest status of El Niño and La Niña

In the past month or so, the equatorial Pacific cooled significantly. Sea surface temperatures of the region returned to normal in May 2020, indicating that the El Niño had come to an end. Based on the latest oceanic observations as well as forecasts by a number of climate models around the world, the cooling trend of the central and eastern equatorial Pacific is expected to continue in the next couple of months and sea surface temperatures of the region will be normal to below normal.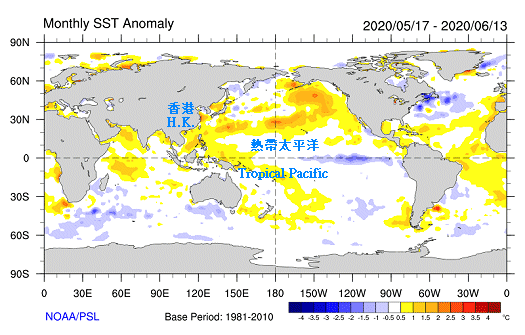 (Source: National Oceanic and Atmospheric Administration, USA)
Figure 1 Sea surface temperature anomalies of 17 May – 13 June 2020 in degree Celsius.

Note:
| | |
| --- | --- |
| 1. | The next update will be available in the latter half of July 2020. |
---

For further information on this webpage, please contact Mr. F C Sham (tel:2926 3102, email:fcsham@hko.gov.hk)