Global Climate Change - Precipitation
Global Climate Change
Increase in air temperature leads to higher moisture-holding capacity of the atmosphere and enhances the hydrological cycle, altering the characteristics of precipitation amount, frequency, intensity, duration, type, etc. Globally averaged precipitation over land has likely increased since 1950, with a faster rate of increase since the 1980s.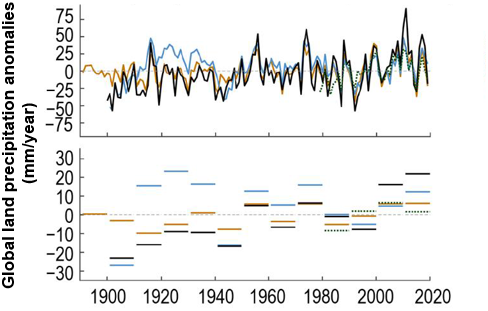 Annual time series (upper) and decadal means (lower) of global land precipitation anomalies (relative to 1981–2010) based on various datasets (Image credit: IPCC AR6)
The frequency and intensity of heavy precipitation events have increased since the 1950s over most land area.
Image credit:
Figure 2.15 from Gulev, S. K., P. W. Thorne, J. Ahn, F. J. Dentener, C. M. Domingues, S. Gerland, D. Gong, D. S. Kaufman, H. C. Nnamchi, J. Quaas, J. A. Rivera, S. Sathyendranath, S. L. Smith, B. Trewin, K. von Shuckmann, R. S. Vose, 2021, Changing State of the Climate System. In: Climate Change 2021: The Physical Science Basis. Contribution of Working Group I to the Sixth Assessment Report of the Intergovernmental Panel on Climate Change [Masson- Delmotte, V., P. Zhai, A. Pirani, S. L. Connors, C. Péan, S. Berger, N. Caud, Y. Chen, L. Goldfarb, M. I. Gomis, M. Huang, K. Leitzell, E. Lonnoy, J. B. R. Matthews, T. K. Maycock, T. Waterfield, O. Yelekçi, R. Yu and B. Zhou (eds.)]. Cambridge University Press. In Press.