Global Climate Change - Greenhouse gases
Global Climate Change
In 2019, atmospheric carbon dioxide (CO2) concentration reached 410 ppm. Such high CO2 concentration has not been experienced for at least 2 million years. Atmospheric concentration of methane (CH4) and nitrous oxide (N2O) reached 1866 ppb and 332 ppb respectively in 2019. Their atmospheric concentrations are unprecedented in at least 800,000 years.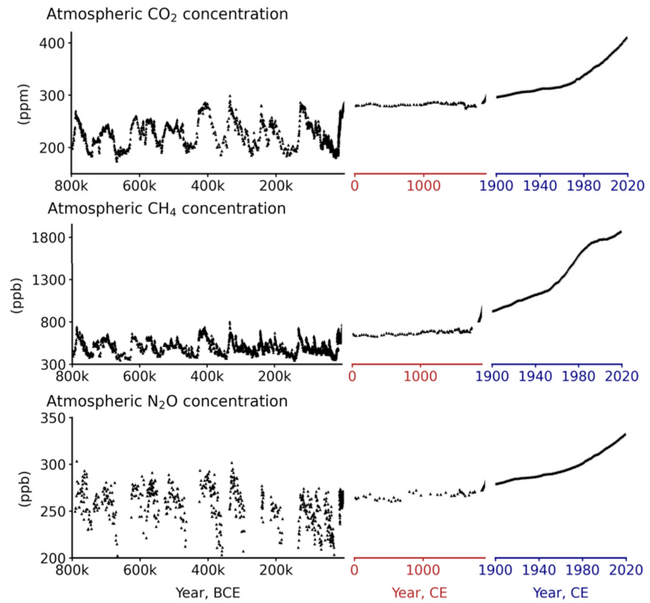 Atmospheric concentrations of CO2, CH4 and N2O (Image credit: IPCC AR6)
Image credit:
Figure 5.4 from Josep G. Canadell, J. G., P. M.S. Monteiro, M. H. Costa, L. Cotrim da Cunha, P. M. Cox, A. V. Eliseev, S. Henson, M. Ishii, S. Jaccard, C. Koven, A. Lohila, P. K. Patra, S. Piao, J. Rogelj, S. Syampungani, S. Zaehle, K. Zickfeld, 2021, Global Carbon and other Biogeochemical Cycles and Feedbacks. In: Climate Change 2021: The Physical Science Basis. Contribution of Working Group I to the Sixth Assessment Report of the Intergovernmental Panel on Climate Change [Masson-Delmotte, V., P. Zhai, A. Pirani, S. L. Connors, C. Péan, S. Berger, N. Caud, Y. Chen, L. Goldfarb, M. I. Gomis, M. Huang, K. Leitzell, E. Lonnoy, J. B. R. Matthews, T. K. Maycock, T. Waterfield, O. Yelekçi, R. Yu and B. Zhou (eds.)]. Cambridge University Press. In Press.