More wind information on HKO's website for windsurfers and paragliders
More wind information on HKO's website for windsurfers and paragliders (8 April 2005)
Starting from today (April 8), the Hong Kong Observatory (HKO) will provide additional regional wind information on its website (http://www.weather.gov.hk/wxinfo/ts/index_wind_e.htm). This includes wind speed and direction measured at Ngong Ping, Sha Chau, Tate's Cairn, Tai Mei Tuk and Tap Mun (see attached figure).
The additional wind information will be updated every 10 minutes. The hourly wind speed and direction in the past 24 hours for each of the stations will also be available. The latest wind information can also be obtained from the Observatory's Dial-a-Weather system (1878 200 - 3#227).
The additional wind information is welcome by outdoor sports enthusiasts. "Windsurfing can only be conducted under suitable wind conditions. The new service provided by the Hong Kong Observatory will be very helpful to windsurfers," the Director (Administration) of the Windsurfing Association of Hong Kong Mr Dennis Chau said.
Treasurer of the Hong Kong Paragliding Association Mr Raymond Wong welcomed the enhanced service saying weather data from the newly added stations, particularly Tap Mun and Tate's Cairn, was very useful to paragliders.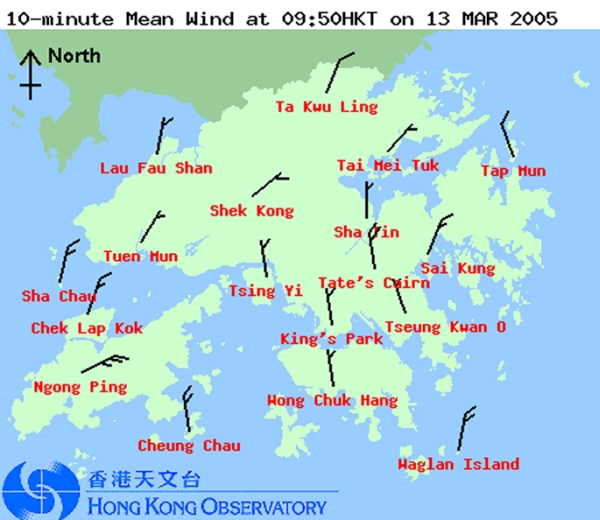 Wind information on the regional weather page in the HKO website.