Wind Forecast for Water Sport Activities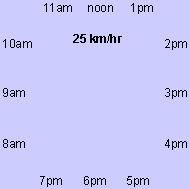 Go to Hourly Weather Forecast of Various Water Sport Site
Note:

These forecast products are updated twice every morning at about 0530H and 1100H local time.
The lines on the above wind clocks represent the forecast wind speeds from 0700H to 1800H (for 0530H update) or from 1200H to 1900H (for 1100H update) at the sites respectively. The forecast wind speed is proportional to the length of the line. A red line represents wind speed greater than or equal to 25 km/hr.
Move the mouse pointer to the wind clock will call up an enlarged display of the clock. Click the enlarged clock to display the hourly weather forecast of that site and the latest weather information from the nearby weather station.
The wind clocks are generated by the Observatory's computer model directly without manual adjustment and the forecast weather conditions described in the products may differ from the weather forecasts issued by the Observatory for the whole territory. For a full assessment of the weather situation, the public should refer to the latest weather forecasts issued by the Observatory.