Collaboration of Aviation Weather Services in issuance of SIGMET
Collaboration of Aviation Weather Services in issuance of SIGMET
CHAN Wai-soen
December 2019
Provision of timely information on adverse weather affecting en-route flights within the Hong Kong Flight Information Region (HKFIR) (Figure 1) to ensure flight safety is one of the roles and responsibilities of the Airport Meteorological Office (AMO) of the Hong Kong Observatory (HKO). AMO will issue various meteorological advisories whenever hazardous weather is affecting or is expected to affect the region. These advisories, called Significant Meteorological Information (SIGMET), need to be issued to pilots timely in accordance with the regulations set by the International Civil Aviation Organization (ICAO) to enable them to take early appropriate actions. For example, when thunderstorm is affecting or is forecast to affect a certain FIR, pilots may take necessary actions such as flight deviation or hovering in holding area upon receipt of the SIGMET message so as to avoid potential hazards to flight safety due to significant convection or even hail. The latest
SIGMETs
issued by the AMO can be found on the HKO's website.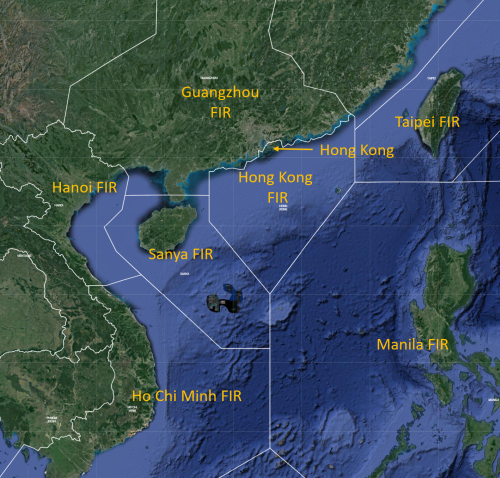 There are three types of SIGMET dedicated for different types of hazardous weather, namely, the WC SIGMET (tropical cyclones) [1], WV SIGMET (volcanic ash), and WS SIGMET (other meteorological phenomena such as thunderstorms, turbulence, icing and etc.). Each SIGMET message contains the description of the weather phenomenon, location, height, speed and direction of movement, intensity change and forecast position [2]. To facilitate exchange, SIGMET is encoded. Automatic translation of SIGMET message issued by AMO in the form of plain language is available at the above-mentioned website.
Why coordination is needed for SIGMET issuance?
Since forecasters are responsible for issuing SIGMET within their own FIR, when a weather hazard, e.g. thunderstorm cloud, extends beyond one FIR, pilots may receive SIGMET messages that are not fully consistent with each other across FIR boundary/boundaries due to different operational practices or assessments for the same weather system by forecasters responsible for different FIRs. Figure 2 illustrates schematically one of the cases. An airplane is approaching a thunderstorm cloud but the SIGMET issued by forecasters from "FIR A" predicted the cloud to be moving to the east, forecasters from "FIR B" predicted it to be stationary, while forecasters from "FIR C" didn't even issue any SIGMET. Under this situation, pilots may find the SIGMET information ambiguous and confusing.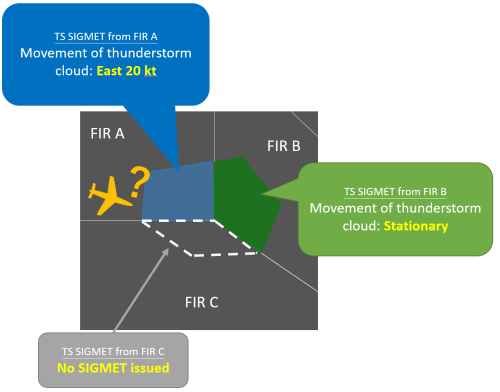 To further improve the SIGMET services, in recent years, ICAO promotes cross-border cooperation and coordination so as to harmonise meteorological related products [3]. To provide and promote SIGMET coordination among neighbouring FIRs, the Hong Kong Observatory has developed a web platform, named the Regional SIGMET Coordination Platform [4]. Using the chat-room function (Figure 3), forecasters could exchange views and agree on the final warning information. Based on the agreed information, the platform will then automatically generate the SIGMET message for respective FIRs. This web platform has been put into operations since 2017 and has been provided to a number of MWOs within the region for their daily operations or trial operations [5].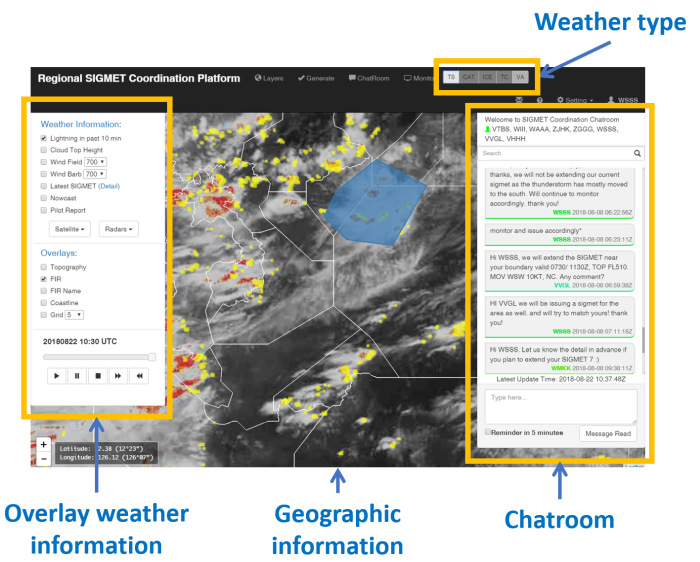 Through the SIGMET Coordination web platform, seamless and consistent SIMGET messages can be issued easily. The improved quality of the coordinated SIGMET within the region is well received by the pilots.