Impact of Strong Wind Associated with Tropical Cyclones on Aviation Operation
December 2011
Among the various weather hazards associated with tropical cyclones, strong wind often has impact on airport operation for a prolonged period of time.
On the morning of 29 September 2011 when Typhoon Nesat was centred around 380 km south of Hong Kong, strong to gale force easterly winds prevailed over and around Hong Kong International Airport (HKIA) (Figure 1), bringing high headwind (wind blowing towards aircraft) for aircraft landing or taking off in the runway direction towards the east-northeast.  Pilots normally prefer to land and take off in headwind as it increases the lift.  However, easterly airstreams of such high wind speeds, after passing through the mountain gaps, usually induce significant windshear and turbulence causing difficulty in the control of aircraft (Figure 2).  The Hong Kong Observatory therefore issued windshear and turbulence alerts and warnings to aircraft landing at and departing from HKIA.
As Nesat moved further away from Hong Kong and made landfall over Hainan Island in the afternoon, wind speeds at HKIA gradually subsided to fresh to strong force (Figure 3).  However, with Nesat southwest of HKIA at that time, winds turned southeasterly.  This resulted in high crosswind (wind blowing from either sides of the aircraft) and controlling the aircraft for landing or taking off in either runway directions of HKIA became even more difficult.  Aircraft may not be able to land when the crosswinds exceed certain limit which depends on aircraft types, loading and other factors.  Airlines and pilots would usually make reference to weather forecasts of destination airports to plan for extra fuel required for landing or diverting to other places.  During the passage of Nesat, over 40 flights were cancelled, around 490 flights were affected and 44 aircraft were diverted due to adverse weather.
Strong winds over HKIA also adversely affect personnel working outdoors on aircraft parked on the ground for unloading or loading and at other airport facilities.  The Observatory issues aerodrome warning of strong wind to aviation communities in HKIA for their necessary actions to protect outdoor workers at the airport.
Details of the aviation weather services provided by the Hong Kong Observatory can be found on the Observatorys webpage for "Aviation Weather Service".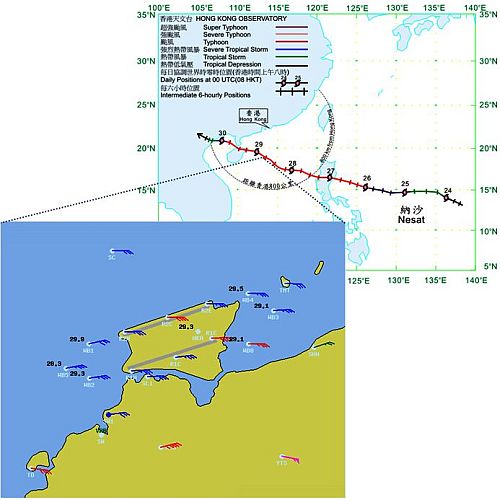 Figure 1: Strong to gale force easterly winds prevailed at around 3 a.m. on 29 September 2011 when Typhoon Nesat was centred around 380 km south of Hong Kong.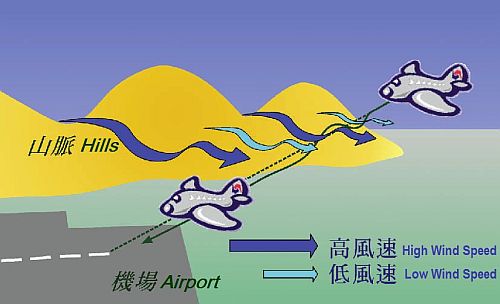 Figure 2: Strong windshear situation with airstreams of high wind speed emerging from the mountain gaps and low-speed airstreams lying in between.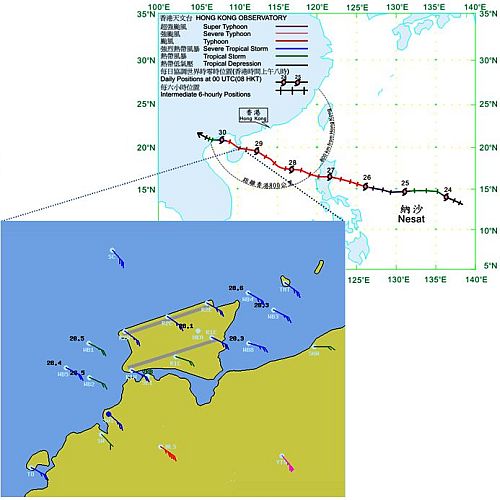 Figure 3: Fresh to strong southeasterly winds prevailed at around 5 pm on 29 September 2011 when Typhoon Nesat was centred around 430 km southwest of Hong Kong.