Hong Kong at Freezing Point - Historical Perspective
26 April 2014
Climatological Records of Special Winter Weather in Hong Kong
Being in the sub-tropical zone, Hong Kong experiences a relatively warm climate. Only in relatively rare occasions in Hong Kong can local residents witness wintry weather phenomena, e.g. snow, commonly found in regions with cold climates. According to historical meteorological records, eyewitness reports and documentation from January 1948 to February 2014, weather phenomena such as frost, ice, rime, sleet, and snow have been reported during the winter months in Hong Kong. In this article, these five types of phenomena are referred generally as "special winter weather phenomena in Hong Kong". Figures 1 and 2 show respectively their yearly and monthly frequency distribution in increasing rarity: frost, ice, rime, sleet and snow. Among them, rime, sleet and snow were the least reported, with only a handful of cases over the past 66 years. Apart from the single frost case reported in November 1987, all other special winter weather occurred during the period from December to March. For the differentiation and identification of special winter weather phenomena, please check the companion article "
Hong Kong at Freezing Point - Observation Perspective
".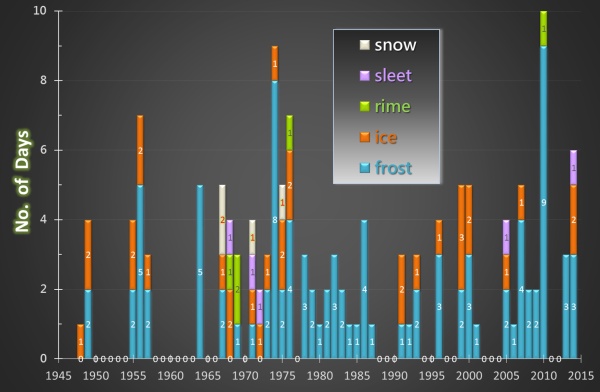 Figure 1The frequency distribution of yearly reports of frost, ice, rime, sleet and snow
in Hong Kong (January 1948 - February 2014).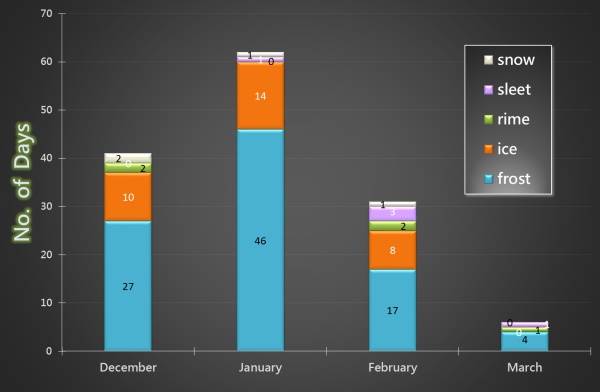 Figure 2Monthly distribution of the occurrence frequency of special winter weather phenomena
in Hong Kong (Data set same as those presented in Figure 1).
In Hong Kong, snow was the rarest winter weather phenomenon, with only four reports received since 1948: on 2 February 1967, 13 December 1967, 29 January 1971 and 14 December 1975 (see Table 1). Brief flurry of slight snow was reported at Cape Collinson Training Center in the first case and at Tai Mo Shan near its summit in the other three cases.

Table 1Summary of snow reports in Hong Kong (January 1948 - February 2014).
The Coldest Day in Hong Kong
Besides the four snow reports in post-war years, there was also a well-known ice and snow event in "Hong Kong" towards the end of the 19th Century. It happened in January 1893 in an era when "Hong Kong" was still confined to the area south of Boundary Street, Kowloon. Between 15 and 18 January, the weather in Hong Kong was exceedingly cold with temperatures at the Observatory headquarters plummeted to extreme levels. In the morning of 18 January 1893, the Observatory's air temperature reached 0.0
o
C. This is the lowest temperature reading since records began in 1884 and a record that has never been broken since then. On higher grounds, sub-zero temperatures were registered at places such as the Peak and the "Botanic Gardens" (renamed as Hong Kong Zoological and Botanical Gardens in 1975). According to eyewitness reports, significant icing appeared at the Peak on 16 and 17 January. The China Mail reported that "Peak residents speak of the accumulation of ice in the Hill district as having largely increased, and in many parts of the roads were positively dangerous, their surface being covered with a coating of ice on which it was almost impossible to get a firm foothold." It also reported that icicles weighted heavily onto the telegraph wires. In the then "Hong Kong Naturalist" journal, Mr. L. Gibbs wrote that "The rain froze as it fell and I well remember that by the time I reached Magazine Gap, a heavy ulster I wore was frozen stiff in front of me."
[1]
. Based on these vivid descriptions and the characteristics of different winter precipitations as described in the companion article "
Hong Kong at Freezing Point - Observation Perspective
", the icing conditions at that time were likely due to freezing rain.
Although no snow was observed at the Observatory, the first Director of the Observatory indicated in his report that the tops of the hills appeared to be covered by snow or hoar-frost. Moreover, snowstorms were reported in Guangdong north and east of "Hong Kong" (i.e. north of Boundary Street)
[2-3]
. Mr Charles Ford, the Superintendent of the Botanical Afforestation Department, recalled the stunning wintry scenery as follows
[2]
(Figure 3):
"
All the hills on the mainland and Lantao (Lantau) island were likewise white with ice, one of the hills (3147 feet) of Lantao having what appeared to be snow for some few hundreds of feet down from its summit. As early as the evening of January 15 the summit of Taimoshan (about 3300 feet) on the mainland had assumed a whitish appearance, presumably from ice or snow.
"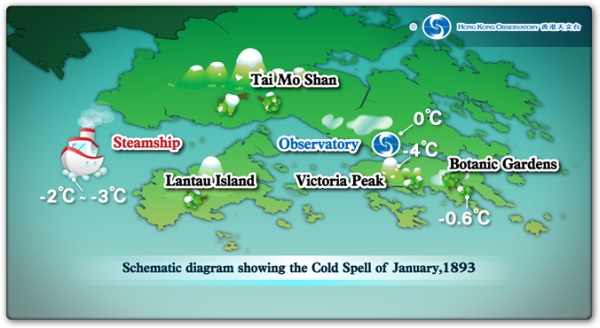 Figure 3Schematic diagram (locations are not to scale) summarizing the sub-zero and wintry situation during the
unprecedented cold spell in January 1893. Reconstructed based on the descriptions in the report
of Mr. Charles Ford, the Superintendent of the Botanical Afforestation Department.
The myth of snow in 1883
There had been an old photograph circulating online, showing snow-covered streets and the "Foochow Club" and triggering speculation that heavy snow had occurred in Hong Kong in 1883, the year the Observatory was established. However, the "Foochow Club" in the photograph was in fact in Fuzhou, Fujian Province
[4]
and not in Hong Kong. Neither was there any record of snow occurrence in the Observatory's reports in 1883.
T.C. Lee
(1)
, K.Y. Kong
(2)
, and H.Y. Yeung
(1)
(1) Hong Kong Observatory
(2) Weather Prediction Center - NOAA, U.S.A.
References:
[1] Lui Wing-hong, 2013: Hong Kong Had Turned to Ice": Record of Lowest Temperature in January 1893, Under the Same Sky, Hong Kong Observatory.
[2] W Doberck, 1893: Severe Frost at Hong Kong, Nature 47, 536-536 (06 April 1893), doi:10.1038/047536b0
[3] 楊寶霖《廣州地區下雪考略》
[4] Foochow Club, Wikipedia:
http://zh.wikipedia.org/wiki/乐群楼_( 福州 )