Hong Kong's Future Temperature
14 August 2012
Recently, a study of the Hong Kong Polytechnic University (HKPU) using remote sensing technology and satellite images predicted that, under the combined effect of global warming and local urbanisation, the temperature in the urban areas of Hong Kong may rise by two to three degrees Celsius in 30 years' time. Announced in the middle of hot summer, this prediction was reported by a number of newspapers. We would like to take this opportunity to share with the general public again the results of temperature projection studies for the coming century conducted by the Observatory in the past few years.
The Hong Kong Observatory (HKO) Headquarters is located in Tsim Sha Tsui, the heart of urban Kowloon. Its temperature records date back to the late 19
th
century and display a rising trend, with a long-term average rate of about 0.12 degrees Celsius per decade for the past 120 years or so
[1]
. The rate of increase is even higher in the latest 30 years. Apart from global warming, the long-term temperature rise can also be attributed to local urbanisation. Both effects have been taken into consideration in the temperature projection study conducted by the Observatory in 2007
[2]
. According to the study, the temperature rise at the HKO Headquarters due to urbanisation was calculated to be about 0.08 degrees Celsius per decade in the 20
th
century. Results of the study show that with various greenhouse gas emission scenarios and the effect of urbanisation taken into account, the temperature rise in Hong Kong by the end of the 21
st
century is expected to be between 3.0 and 6.8 degrees Celsius (Figure 1).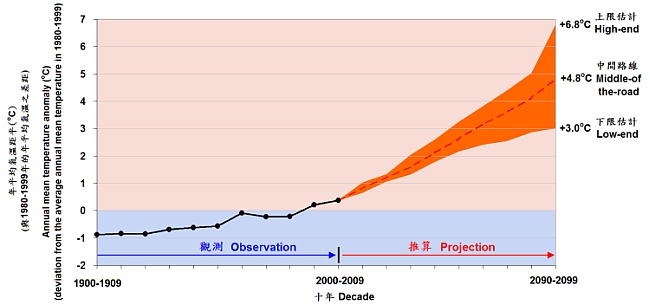 Figure 1Past and projected annual mean temperature anomaly for Hong Kong
In the study on extreme temperature projections in Hong Kong in the 21
st
century conducted in 2010
[3]
, the Observatory made use of climate model data of high resolution to estimate the change in extreme temperature events in Hong Kong under different greenhouse gas emission scenarios, with the effect of urbanisation incorporated. Details are available from the scientific paper and the summary of study promulgated on our webpage
[4]
. Under the combined effect of global warming and local urbanisation, the Observatory expects the annual numbers of hot nights and very hot days in Hong Kong to increase to 96 and 51 respectively near the mid-21
st
century.
Although there might be differences in the computational approach and assumptions on the degree of future urbanisation in the HKO and HKPU studies, both of them suggested that the 21
st
century would likely be significantly warmer than the 20
th
century and the chance of having extremely high temperature events would greatly increase. While significant reduction of greenhouse gas emission is needed to mitigate the impact of a warmer climate, good town planning and green living style will help us in coping with climate change and adapting to future climate. Let's take action together now.
S M Lee and T C Lee
References:
[1] Observed Climate Change in Hong Kong,
http://www.hko.gov.hk/climate_change/obs_hk_temp_e.htm
[2] Director of Hong Kong Observatory Talks on Climate Change and 2008 Outlook,
http://www.hko.gov.hk/wxinfo/news/2008/pre0312e.htm
[3] Projections for Extreme Temperatures in Hong Kong in the 21
st
Century,
http://www.hko.gov.hk/whatsnew/d3/whats_new_20110223.htm
[4] Projections of Hong Kong Climate for the 21
st
Century,
http://www.weather.gov.hk/climate_change/proj_hk_temp_e.htm