More Weather Information for Local Aviation
In response to requests of windsurfers and paragliders in Hong Kong, the Hong Kong Observatory has enhanced its website by including more regional wind information (http://www.weather.gov.hk/wxinfo/ts/index_wind_e.htm). This includes wind speed and direction measured at Tap Mun, Tate's Cairn, Ngong Ping, Sha Chau and Tai Mei Tuk. The wind information is updated every 10 minutes.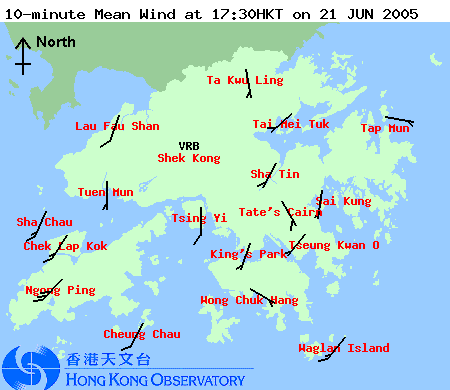 Regional wind information
To facilitate the aviation sport enthusiasts to appreciate the general visibility conditions in Hong Kong, a hyperlink to visibility readings in Hong Kong waters has also been added on the "Weather Information for Aviation Sports" webpage (http://www.weather.gov.hk/en/aviat/soaring/index.shtml).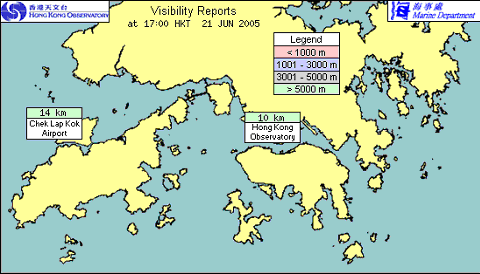 Visibility readings in Hong Kong waters
The wind readings at selected stations and the visibility readings can also be obtained from the Observatory's Dial-a-Weather System (DAWS). The public can call the DAWS at "1878200" with a tone dial phone. After choosing the required language, the readings can be retrieved and heard by selecting channel "22" for visibility and channel "25" for regional wind.
The regional wind information and visibility readings in Hong Kong waters are also available on the Aviation Meteorological Information Dissemination System (AMIDS) for registered aviation users in Hong Kong.