Hong Kong Observatory won a Certificate of Merit - "Best of E-Government and Services" in the Asia Pacific Information and Communication Technology Awards ' 2003
Asia Pacific Information and Communication Technology Awards (APICTA) 2003
Bangkok, Thailand (5-8 December 2003)

Hong Kong Observatory took the two World Meteorological Organization pilot projects (World Weather Information Service & Severe Weather Information Centres) to Bangkok, Thailand to compete for the"Asia Pacific Information and Communication Technology Awards (APICT Awards) 2003". The Asia Pacific ICT Awards is an annual activity organized by the computer societies of the Asia Pacific countries/territories, competing for the best computer projects of the year. The two WMO pilot projects successfully won a certificate of merit - "Best of E-Government and Services".

The Hong Kong Observatory representative Dr. K K Yeung received the
certificate of merit from H.E. Mr. Suwit Khunkitti,
Deputy Prime Minister of Thailand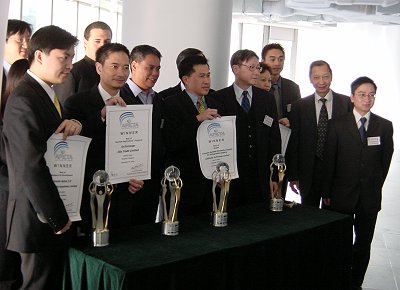 APICTA Press Conference on 19 December 2003 -
The Hong Kong Observatory representatives, Dr. K K Yeung (right 2) & Mr. W C Woo (right 1)
took the photo together with the other Hong Kong award winners.


Press release
issued by the Hong Kong Computer Society on 19 December 2003