"Hong Kong Observatory - Weathering the Storms for 125 Years" Exhibition
"Hong Kong Observatory - Weathering the Storms for 125 Years" Exhibition
To celebrate the 125th anniversary of the Hong Kong Observatory, an exhibition "Hong Kong Observatory - Weathering the Storms for 125 Years" was staged at the Hong Kong Museum of History on 23 July - 22 September 2008.
Starting with only a couple of staff and a handful of simple instruments when the Hong Kong Observatory was established in 1883, the Observatory has evolved to cope with societal changes in the past 125 years to one of the leading meteorological services in the world. Through words, pictures, early weather charts, as well as artifacts like typhoon signals, the exhibition tells stories about how the Observatory's evolution, and brings you back the memories of those storms that have devastated Hong Kong.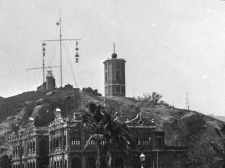 A photo in the exhibition:    Tropical cyclone warning signals hoisting at Blackhead's Hill, Tsim Sha Tsui in the early 20th century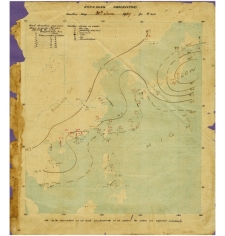 One of the exhibits:    The Observatory's earliest extant weather map, drawn on 30 June 1909.
In conjunction with the exhibition, the Director of Hong Kong Observatory Mr Lam Chiu-ying gave a talk titled "Weathering the Storms - Evolution of the Hong Kong Observatory" at the Lecture Hall of the Hong Kong Museum of History at 3:00 p.m. on 23 August (Saturday). About 160 citizens attended the talk.