Weathering the Storms" now on sale
"Weathering the Storms" now on sale
(22 January 2009)
"Weathering the Storms", a collection of essays to commemorate the 125th anniversary of the Hong Kong Observatory, is now on sale.
The book comprises 43 Chinese and English articles written by serving and retired staff of the observatory, including four directors of different generations. Through the authors' real-life stories, and more than 100 precious pictures, the evolution of the observatory and Hong Kong society over the decades is vividly revealed. The book is highly recommended for those interested in weather as well as the history of the observatory.
At $88 a copy, the book can be obtained at the Hong Kong Observatory Resource Centre, the Publications Sales Unit of the Information Services Department, General Post Office, Tsim Sha Tsui Post Office, Tuen Mun Central Post Office and Sha Tin Central Post Office. It is also available from the on-line government bookstore at
http://www.bookstore.gov.hk
, details of which can be obtained through the telephone enquiry service of the Information Services Department on 2537 1910. It will also later be sold at major bookstores in Hong Kong.
The Hong Kong Observatory Resource Centre is located at Units 2304-2309, 23/F Miramar Tower, 132 Nathan Road, Tsim Sha Tsui, Kowloon (telephone: 2926 8250).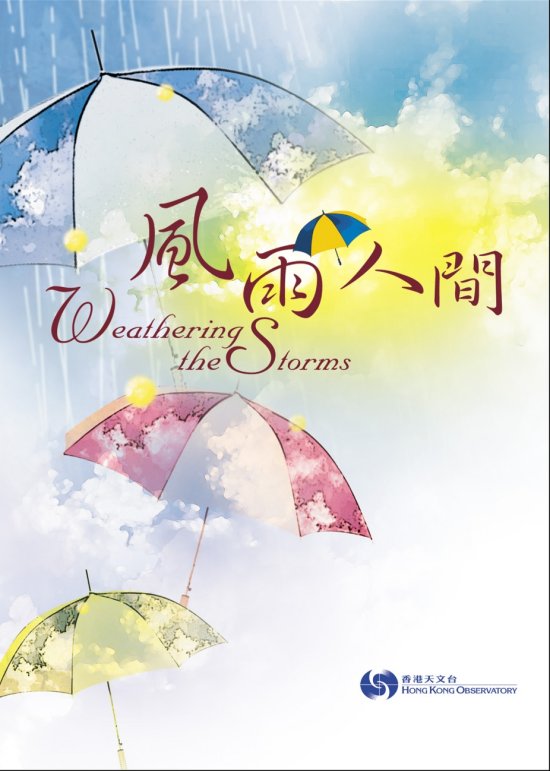 Front cover of 'Weathering the Storms'