Observatory launches Regional Climate of Hong Kong webpage
Observatory launches Regional Climate of Hong Kong webpage
(10 November 2008)
The Observatory today (November 10) launched the "Regional Climate of Hong Kong" webpage on its website to further enhance the climatological information services in Hong Kong. The webpage provides information on various climatological observations including air temperature, relative humidity, rainfall amount, wind direction and speed, number of very hot days, number of hot nights, number of cold days and number of days with rain for different regions in Hong Kong.

Hong Kong has a complex topography and a large land-use diversity. The effects of maritime and continental weather systems to different regions in Hong Kong are different and these lead to differences in climate characteristics. For example, apart from regions on high ground, Chek Lap Kok has the highest mean temperature (24.1 oC) and Tap Mun has the lowest (22.4 oC); Tseung Kwan O has the highest rainfall amount (2,506mm) while Lau Fau Shan has the lowest (1,487mm); the prevailing wind direction at Sai Kung is northerly while it is southerly at Tuen Mun and Cheung Chau has the highest mean relative humidity (81%) while Chek Lap Kok has the lowest (71%).

The regional climatological information is compiled using meteorological observations collected by the Observatory's automatic weather stations in different regions in Hong Kong. The information could help people to better appreciate the climate characteristics of the region in which they live.

The regional climatological information is useful in daily life. People may wish to refer to the information while planning for trips to the countryside, seasonal shopping, home appliance purchases or even real estate acquisition before making the appropriate decisions.

The webpage is available at http://www.weather.gov.hk/en/cis/regione.htm . Comments from users are welcome.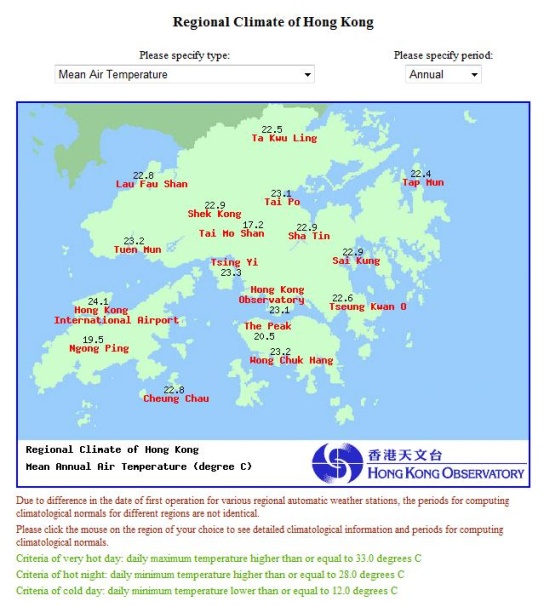 The "Regional Climate of Hong Kong" webpage shows the long term mean air temperatures at various regions in Hong Kong