Lightning alert service is location specific
Lightning alert service is location specific
(27 May 2008)
The Hong Kong Observatory today (May 27) launched a new Internet trial lightning alert service to provide lightning information according to individual needs in an interactive way.
The webpage is easy to operate. People can choose their location of interest, either from the popular places listed on the webpage or entering the name of a building, estate or street. The user can also click directly on the lightning map to specify the place of concern. An alert will be provided automatically when there is lightning within a 15km range of the specified location. The new service is to help the public assess the risk of lightning during outdoor activities.
At today's press conference to launch the service, Acting Assistant Director of the Observatory, Ms Lau Sum-yee demonstrated the features of the webpage. Ms Lau said, "The Observatory makes use of the Internet, which is renowned for the efficiency of information processing and dissemination, to screen from a large quantity of lightning data the useful information for individual users according to their choice and help the user decide whether or not to proceed with planned outdoor activities."
Also at the press conference was Assistant Headquarters Commissioner (Meteorology) of Scout Association of Hong Kong, Mr Chan Ka-wing. He shared his experience of using this service and said, "The Scout Association of Hong Kong welcomes this new service provided by the Observatory. Most of our activities are held outdoors and are easily affected by adverse weather. We can quickly grasp the distance of the lightning from our event venue without having to call the Observatory. This helps us make efficient and suitable arrangements to protect scouts."
Since its inception in June 2005, the lightning location information service has been well received by the public with more than 4.7 million visits to the webpage. The new trial lightning alert webpage can be accessed at
http://www.weather.gov.hk/wxinfo/llis/index.htm
. People are invited to try it out and provide comments to the Observatory.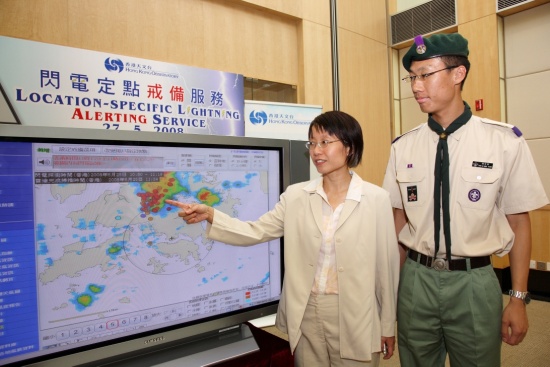 Acting Assistant Director of the Observatory, Ms Lau Sum-yee, and Assistant Headquarters Commissioner (Meteorology) of Scout Association of Hong Kong, Mr Chan Ka-wing, introduce the new lightning alert service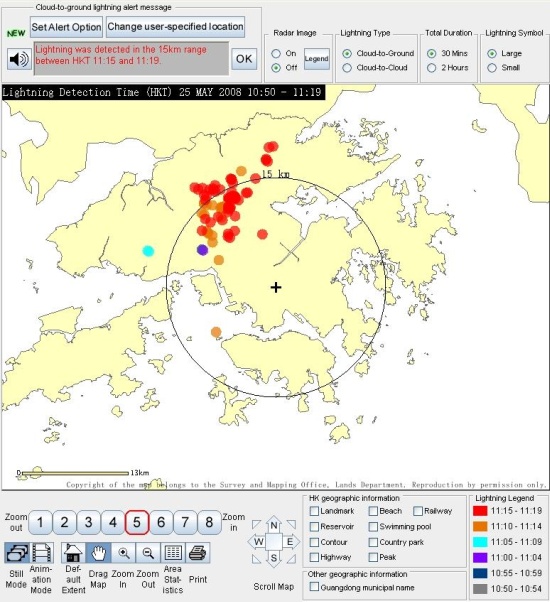 The webpage automatically sends out an alert when lightning is detected within a 15 km range of the user-specified location