Secondary school students learn through observing weather
Secondary school students learn through observing weather (17 May 2005)
The Hong Kong Observatory (HKO) and the Hong Kong Education City (HKEdCity) today (May 17) launched the "Weather Diary" activity for secondary school students. The activity aims to raise students' interest in and knowledge of meteorology through weather observation.
More than 2,100 students from about 300 schools are participating in the activity. Students will observe cloud and rain conditions after school each day for a month and record the information as well as what they have learnt on the HKEdCity webpage. The HKO will analyse the data and then announce the results.
Assistant Director of HKO Dr Lee Boon-ying said that observing the weather was the first step in weather forecasting. "Students will have the opportunity to carry out and see for themselves this important task. Furthermore, the collected information can also be used to study the differences in the weather over various regions of Hong Kong," Dr Lee said.
Chief Executive Officer of HKEdCity Ms Jacqueline Cheng said the mission of HKEdCity was to promote learning through the web. "The Internet," she said, "is a convenient means for collecting weather data and promoting the relevant meteorological knowledge. The popularity of HKEdCity's website combined with the observatory's professional knowledge will contribute to the education in Hong Kong through the use of information technology in learning and teaching."
Chairman of the Hong Kong Subsidised Secondary Schools Council and Principal of Cheung Sha Wan Catholic Secondary School Mr Chu Fu-yau said it would be a valuable experience for students to be involved in scientific work. He encouraged students to participate in the activity.
Chairman of the Association of Principals in Government Secondary Schools and Principal of King's College Mr Ho Yue-shun said he was delighted his students could take part in the activity. He hopes that more activities of this kind can be organised for students to learn through practice.
Details of the activity can be found in the websites of HKO and HKEdCity:
http://www.hko.gov.hk,
http://www.hkedcity.net/project/weatherdiary2005.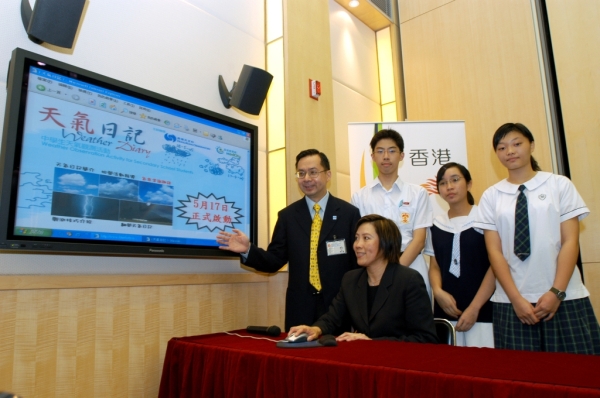 "Weather Diary" kicked-off - Dr. Lee Boon-ying, Assistant Director of the Hong Kong Observatory; Ms. Jacqueline Cheng, Chief Executive Officer of the Hong Kong Education City; together with several participating students, hosted the kick-off ceremony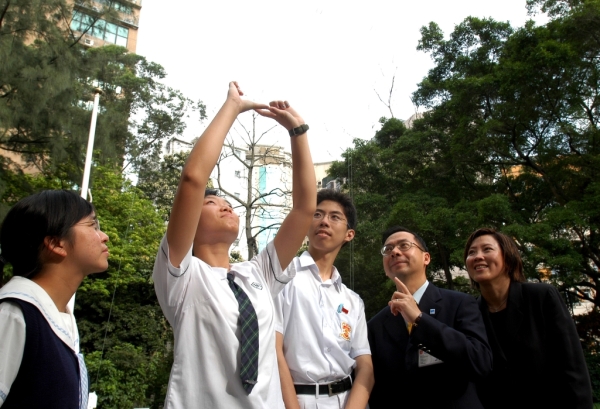 Students observing the sky under the guidance of Dr. Lee Boon-ying, Assistant Director of the Hong Kong Observatory