World's first LIDAR for weather alerting at Hong Kong Airport
World's first LIDAR for weather alerting at Hong Kong Airport (12 November 2002)
The Hong Kong Observatory has installed a LIght Detection And Ranging (LIDAR) system at Chek Lap Kok to strengthen its windshear and turbulence alerting service for the airport. It is the first of its kind for use in airport weather alerts in the world, enhancing the Observatory's capability in detecting windshear and turbulence in fine weather.
Speaking at a press briefing today (November 12), the Director of the Hong Kong Observatory, Dr LAM Hung-kwan, said, "Before the implementation of the LIDAR, the Observatory has been using mainly a terminal Doppler weather radar at Tai Lam Chung to detect windshear around the airport. The LIDAR will complement the terminal Doppler weather radar. They, in combination, will enable more comprehensive detection of windshear in all weather conditions."
A LIDAR gives out infrared light and receives the reflection from dust particles and aerosols in fine weather. This enables the determination of wind distribution. Located near the centre of the airport, the LIDAR provides wind information for both the ascending and descending flight paths of both runways. Aviation forecasters make use of these data round the clock and issue alerts of windshear and turbulence as necessary.
Preliminary analysis indicates that the LIDAR is promising in capturing windshear events. The following is an example. Around noon on August 21,2002, the LIDAR detected windshear near the western part of the airport. This enables the aviation forecaster to issue an alert an hour or so in advance. The windshear strength as detected by the LIDAR was in good agreement with a report of windshear by an aircraft landing on the northern runway at that time.
The LIDAR is now on operational trial. The Observatory will collect data for analysis and develop application software with a view to optimizing the function of the system. It is expected that the LIDAR would be put into full operation in 2005.
Prior to the press briefing, the Hong Kong Observatory was formally presented with an ISO 9001:2000 certificate in recognition of the quality of its international aviation weather service.
"The ISO certification award is recommended by the International Civil Aviation Organization (ICAO) in 2001 in respect of aviation weather service. The Hong Kong Observatory is one of the first weather services in the Asia and Pacific region to be awarded an ISO certification. This could not have been possible without the co-operation and dedication of the staff, as well as constructive feedback from users of the aviation community," Dr Lam said.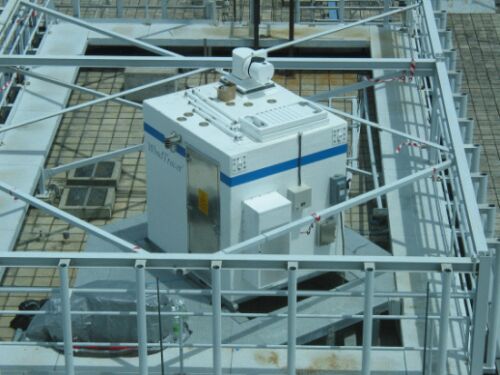 Picture 1 Picture shows the LIDAR on the roof-top of the Air Traffic Control Complex at Chek Lap Kok.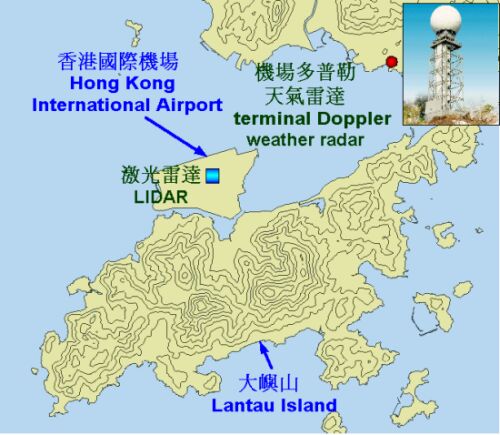 Picture 2 Picture shows the location of the LIDAR and the terminal Doppler weather radar.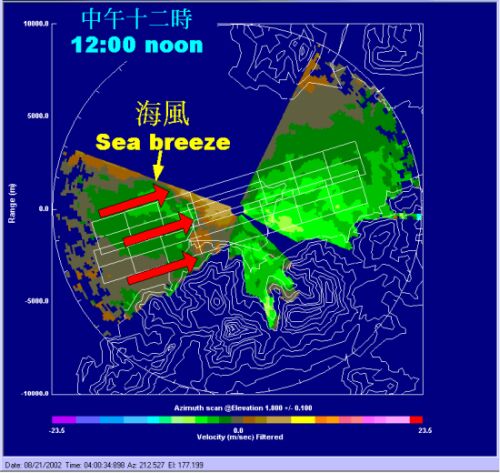 Picture 3 Picture illustrates an example of windshear arising from sea breeze as captured by the LIDAR at noon on August 21, 2002. Sea breeze is indicated by red arrows and its associated wind speeds are represented by green colours.