Tornado in Hong Kong on Monday 20 May 2002
Tornado in Hong Kong on Monday 20 May 2002 (22 May 2002)
The Observatory received from an airport personnel a report of very windy conditions resembling a tornado on Chek Lap Kok Island in the evening of Monday 20 May 2002. The event occurred at around 8:30 p.m. and dustbins were blown around violently at Catering Road East, Chek Lap Kok.
Thunderstorms were affecting Hong Kong around that time. Warnings of strong monsoon and thunderstorms were in force. The Observatory had also issued alerts of significant windshear in advance.
The event was well observed by the Observatory's Terminal Doppler Weather Radar. The radar picture taken at the time shows opposing winds exceeding 90 kilometres per hour and affecting an area one kilometre across over the eastern part of Chek Lap Kok (Figure 1). This is typical of tornadoes.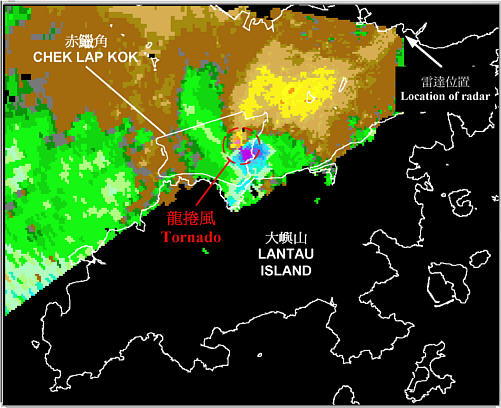 Figure 1 Picture taken by the Terminal Doppler Weather Radar of the Hong Kong Observatory at 8:31 p.m. on 20 May 2002. Purple/blue indicates winds blowing towards the northeast, while orange/yellow indicates winds blowing towards the southwest. Two patches of opposing winds closely packed together is the typical pattern of tornadoes.



The Terminal Doppler Weather Radar is located at Tai Lam Chung and was put into operation in 1998 specifically for the purpose of detecting weather phenomena giving rise to windshear in severe weather at the new airport.

A tornado is a fast rotating column of air extending from thunder clouds to the ground. Locally, occurrences of tornado are mostly associated with unstable weather during the rain season from May to September.

On past record, there were a total of 5 cases of tornadoes in Hong Kong. The last reported tornado in Hong Kong occurred in Fanling on 17 May 1994.

A tornado over waters is called a waterspout. Since 1959, there were a total of 36 cases of waterspout and waterspout-like funnel cloud within 460 kilometres (250 nautical miles) of Hong Kong.