Deployment of Drifting Buoys in 2023
The Hong Kong Observatory (HKO) has joined the Barometer Upgrade Program of the Data Buoy Cooperation Panel (DBCP) and already deployed around 30 drifting buoys in the South China Sea and western North Pacific with the assistance of Hong Kong Voluntary Observing Ships (HKVOS) since 2015. The buoys drift across wide data-sparse areas of the ocean and collect a large amount of useful weather information in real time. Deployment of drifting buoys has become an annual operation of HKO.

Five new drifting buoys are planned to be deployed in the South China Sea and one in the western North Pacific in 2023, with a view to collecting more meteorological and oceanographic data to support marine weather analysis and tropical cyclone monitoring over the region. Two of them have recently been deployed near 18.0oN 113.5oE and 16.0oN 113.0oE to the southeast of Hainan Island with the assistance of two VOS "OOCL Nagoya" and "OOCL Norfolk" in June 2023 (Figure 1). Hourly sea-level pressure and sea surface temperature readings with identifiers "AMOHK33" and "AMOHK34" are received via the Iridium satellite communication. The collected data are processed and disseminated via the Global Telecommunication System (GTS) for sharing with other meteorological centres around the world (Figure 2).

HKO is now exploring to acquire a new type of drifting buoy equipped with more sensors for the measurement of surface wind, wave and sea current with real-time data transmission via the Beidou satellite system. It can collect more detailed meteorological and oceanographic data with finer temporal resolution which are useful to real-time weather analysis and monitoring of the development of tropical cyclones. Continuous deployment of drifting buoys can also help monitor climate change by providing long-term data on ocean by tracking changes in sea temperatures among other elements.


Figure 1. Drifting buoy deployed by the crews of HKVOS over the South China Sea on 15 June 2023 (Photos courtesy of Orient Overseas Container Line Limited).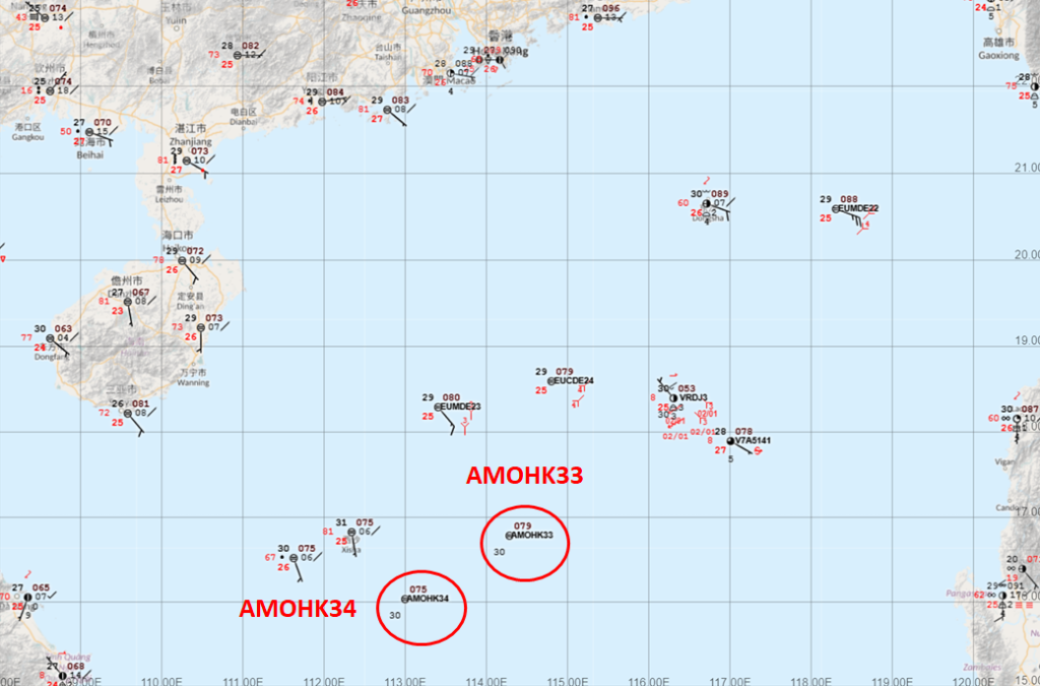 Figure 2. Air pressure and sea surface temperature data of the drifting buoys "AMOHK33" and "AMOHK34" displayed on the weather map together with other surface observations from the GTS.


Chow Chi Kin