Enhancement on HKO's Service on Twitter
1 December 2010
The Hong Kong Observatory (HKO) launched a trial service to deliver latest weather information such as real-time weather warnings, new services, sidelights of HKO, and the Director's Blog, etc., on the Twitter website (http://twitter.com) in September this year. The service has become rather popular and followers to the HKO's twitter service exceed two thousands in the space of two months.

To enhance the service, a new account "ObservatoryHK" is created on Twitter today (1 December 2010) to deliver English messages. The original account "HKObservatory" will continue to deliver messages in both Chinese and English until 14 December 2010. English messages will be ceased and only Chinese messages will be delivered in the account "HKObservatory" commencing 15 December 2010.

Apart from the existing weather warnings (viz. Tropical Cyclone Warning, Rainstorm Warning, Thunderstorm Warning, Landslip Warning, Special Announcement on Flooding in the northern part of New Territories, Very Hot Weather Warning, Cold Weather Warning, Strong Monsoon Signal, Fire Danger Warning and Frost Warning), HKO will also deliver latest news about storm surge and tsunami on Twitter.

The official Chinese and English HKO Twitter accounts are available at http://twitter.com/hkobservatory and http://twitter.com/observatoryhkrespectively. These links could also be found on the front page of the HKO's website. Follow "HKObservatory" (Chinese) or "ObservatoryHK" (English) now to stay connected with HKO and be informed with the latest weather news.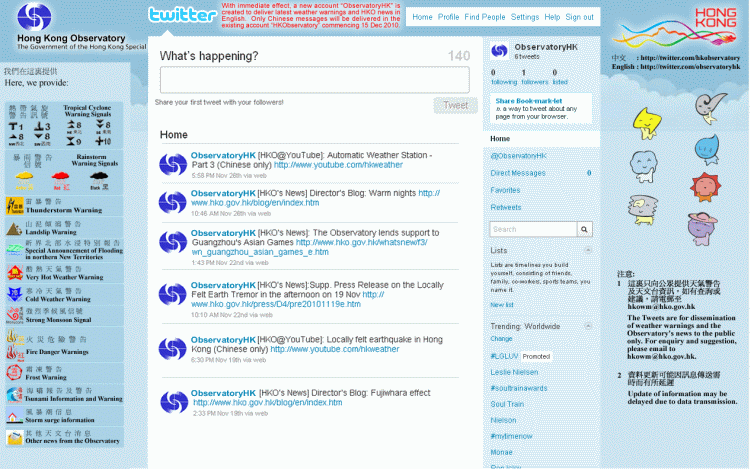 Sample display of"ObservatoryHK" on Twitter website