Experimental weather telephone hotline for the hearing-impaired persons (Chinese version only)
1 September 2009
The Hong Kong Observatory and the Hong Kong Lutheran Social Service joined together to launch a new service to the hearing-impaired persons over the Hong Kong's first barrier-free telephone hotline by providing weather information through 3G mobile video services. The public can now try out the new service by making a video call* to 6777 5100.


This hotline delivers the latest weather information. Weather warnings that are currently in force would be displayed with scrolling captions.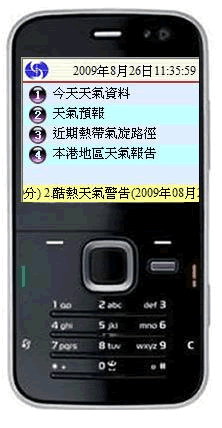 *Please note that users will be charged for the video call by their own 3G service provider.