WEATHER ON WINGS
Newsletter for the Aviation Community
Hong Kong Observatory

Issue No. 12 - November 1999
---
The Twelfth Meeting of the Liaison Group on Aviation Meteorological Services was held at the Conference Hall of the Hong Kong Observatory (HKO) on 23 June 1999. Twelve members participated. Dr. H.K. Lam said that all the meteorological systems at Chek Lap Kok had been working smoothly. However, the HKO had yet to face another challenge with the transition to year 2000. HKO had been dealing with the issue for 9 months and all HKO systems were already year 2000 compliant. HKO had drawn up a contingency plan to deal with unforeseen problems which might arise both within and outside HKO.
There are a total of 36 registered users of the Meteorological Information Dissemination System (MIDS) and demand for more user accounts has been on the rise. Fig. 1 below illustrates the usage of MIDS since airport opening in July 1998. One can see the increase in the volume of data transferred over the past 15 months, with the September 1999 figure exceeding 400 million (400,000,000) bytes per day. To meet the increasing demand, we are in the process of adding computer facilities with a view to accommodating more users and to further enhance the reliability of the system.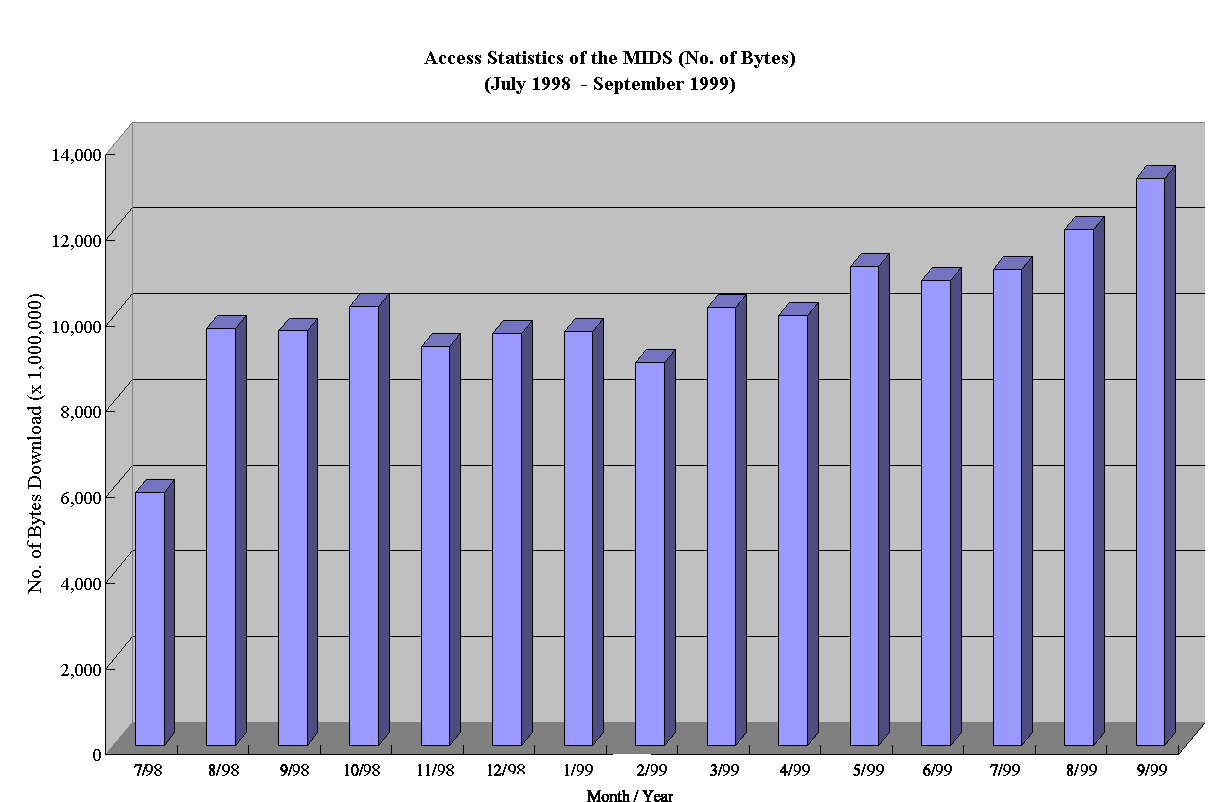 Fig. 1 Access Statistics of the MIDS (Bytes)
(July 1998 - September 1999)
During the close passage of Typhoon York, the antennae of our SADIS and ISCS-2 VSAT ground stations were blown off their alignment by the wind, and data reception at both stations was interrupted. The wind was so violent our maintenance staff could not get out to fix the antennae until a few hours later. As soon as data reception was interrupted, we searched the internet for WAFS charts and were able to locate many but not all the required charts. We called the Bureau of Meteorology (BOM), Australia for help. Altogether, we received via fax 5 WAFS charts from their help desk, which completed the full set of charts required for our operation.
Five briefing sessions to air traffic controllers of the Civil Aviation Department were held in November and December on the windshear warnings at the Hong Kong International Airport (HKIA). Miss Sharon Lau and Mr. C.M. Shun, who were responsible for the Windshear and Turbulence Warning System (WTWS) and Terminal Doppler Weather Radar (TDWR) respectively, talked on the observation of terrain-induced windshear at the HKIA based on data collected by the TDWR, pilot reports and wind recordings on commercial aircraft. They explained the difficulty in warning such windshear by automatic detection systems and highlighted the usefulness of supplemental warnings issued by forecasters based on forecasting rules. Air traffic controllers provided valuable feedback during these briefing sessions, which will be taken into account in planning improvements to the windshear warning service.
Extension of the Aerodrome Meteorological Observing System for the Northern Runway and the Backup Air Traffic Control Complex
The extension of the Aerodrome Meteorological Observing System (AMOS) for the northern runway (AMOS-N) has been operating satisfactorily since its installation last year. It was put to full operation to support the round-the-clock use of the northern runway in late August this year.
The extension of the AMOS for the Backup Air Traffic Control Complex (AMOS-B) was delivered to Hong Kong in early August. Installation has been completed and acceptance testing is underway.
In order to ensure the continuous operation of all meteorological systems in support of aviation meteorological service during the Y2K rollover period, tests had been conducted in early 1999 to confirm whether or not the systems would function properly on a number of high-risk dates. All systems had passed the tests and confirmed to be Y2K compliant by April 1999.
Over the past few months, we have been visiting the offices of users of the MIDS and performed tests on machines with access to MIDS by connecting them to a Y2K-compliant server at HKO. The purpose is to minimize the possibility of disruptions during the Y2K rollover period. We are pleased to report that so far all configured machines were found to be able to download flight documents from MIDS for a specified set of high-risk dates simulated for the test occasion. Users whose machines have not been subject to the tests are urged to contact the Airport Meteorological Office (AMO) at 2910 6920 to arrange such tests as soon as possible.
As the meteorological systems are highly specialized and linked to a number of other systems within HKO and to other systems of the aviation community, there is a need for contingency planning in the event the Y2K problem causes disruptions beyond our control. In consultation with airline operators, ground-handling agents, relevant government departments and the Airport Authority, HKO had drawn up Y2K contingency measures in July 1999 to ensure that essential services will be maintained.
During the high-risk dates of 1 September and 9 September 1999, additional personnel were deployed at AMO at Chek Lap Kok so that the appropriate contingency measures could be activated in the event of Y2K-related disruptions. We are happy to report that all meteorological systems operated smoothly without the need for any contingency measures. On 9 September, we also took the opportunity to test out emergency communication facilities at AMO, and to exercise on our manual observations which would be required in the event of failure of weather sensors.
Since October we have been conducting drills, some in conjunction with business partners, to ensure that staff and facilities are in a state of readiness and the emergency procedures are improved upon. We are also making logistic arrangements as well as preparations to stock sufficient spares and back-up facilities to support the operation of meteorological systems.
In case Y2K-related disruptions render it not possible to obtain flight documents from MIDS, users are advised to come to the Meteorological Briefing Area at the Aeronautical Information Centre inside the Passenger Terminal Building. Flight documents containing the latest available weather information will be placed there for collection. The emergency telephone numbers of AMO are: 2910 6920 and 9181 0963, and the fax number is 2910 0080.
1999 is one of the busiest years in terms of tropical cyclone activity. It was the first time since 1964 that No. 8 gale or higher signals were hoisted on five different occasions. Also, the No. 10 Hurricane Signal was hoisted for the first time since 1983. Furthermore, the centres of four tropical cyclones, viz. Maggie, Sam, York and Cam passed through the territory of Hong Kong in 1999. The tracks of all the tropical cyclones which necessitated the hoisting of Tropical Cyclone Warning Signals up to the end of October 1999 are shown in Fig. 2.


Typhoon Maggie
On 7 June, Maggie traversed Hong Kong from northeast to southwest at about 30 km/h before moving to offshore waters. Strong winds affected the HKIA between 2 a.m. and 7 a.m. on that day. A maximum hourly wind of 32 knots and a maximum gust of 48 knots were recorded. The maximum 10-minute crosswind experienced was 34 knots. Maggie's looping motion off Shangchuan Dao later during the night brought it briefly closer to Hong Kong again and the HKIA experienced strong winds again between 3 a.m. and 1 p.m. on 8 June.


Typhoon Sam
Sam made landfall over the eastern part of Hong Kong at around 6 p.m. on 22 August and was closest to the Hong Kong Observatory Headquarters (HKOHq) at around 6:15 p.m. when it was about 25 km to the northeast. Following landfall Sam traversed the northeastern part of Hong Kong at a speed of about 25 km/h.
Strong to gale winds were recorded at the HKIA from 10 a.m. on 22 August until 1 a.m. on the next day with winds reaching gale force between 1 p.m. and 6 p.m. A maximum hourly wind of 34 knots and a maximum gust of 50 knots were recorded. The maximum 10-minute crosswind recorded was 35 knots.
At around 6:15 p.m., the centre of Sam was seen over the eastern part of Sai Kung (Fig. 3). Strong to gale force winds were blowing over Chek Lap Kok and Lantau Island to the southwest.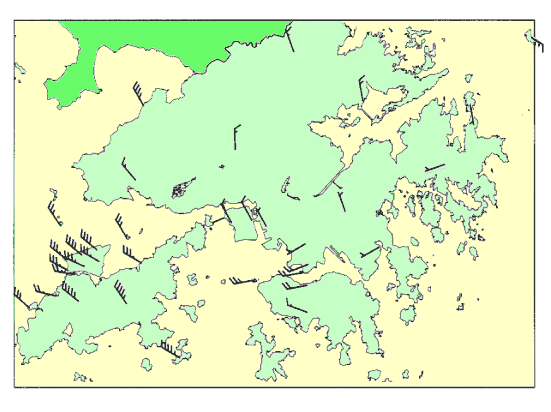 Fig. 3 Winds recorded at various stations in Hong Kong at 6:15 p.m. on 22 August 1999
During most part of the afternoon, gale to hurricane force northwesterlies were detected by the Sha Lo Wan profiler (Fig. 4). When Sam weakened into a severe tropical storm and made landfall over the eastern part of Sai Kung at around 6 p.m., winds over Sha Lo Wan subsided a bit. However, with the winds backing to southwesterlies at around 8 p.m., winds at Sha Lo Wan again picked up.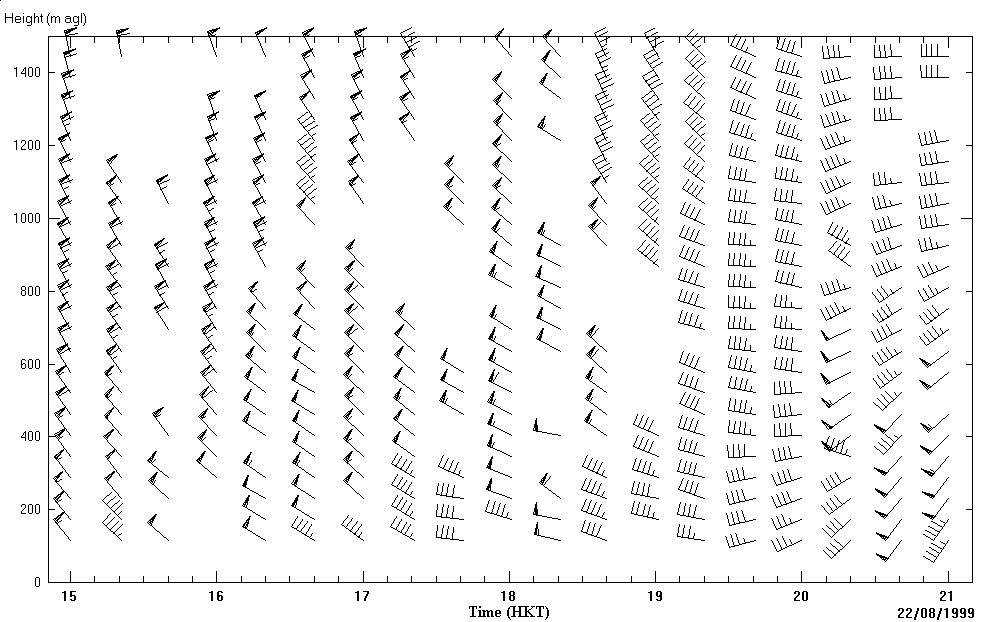 Fig. 4 Sha Lo Wan profiler data
Fig. 5 shows the TDWR Graphical Situation Display image at 1801 HKT on 22 August, when Sam was making landfall near Sai Kung. Here precipitation is shown in 6 levels of rainfall intensity (or radar reflectivity) on a 6-degree elevation scan. Storm motion vectors in the form of arrows with speed in knots indicating the movement of the precipitation areas are also shown in the Display. The cyclonic circulation associated with Sam is well depicted by the storm motion vectors.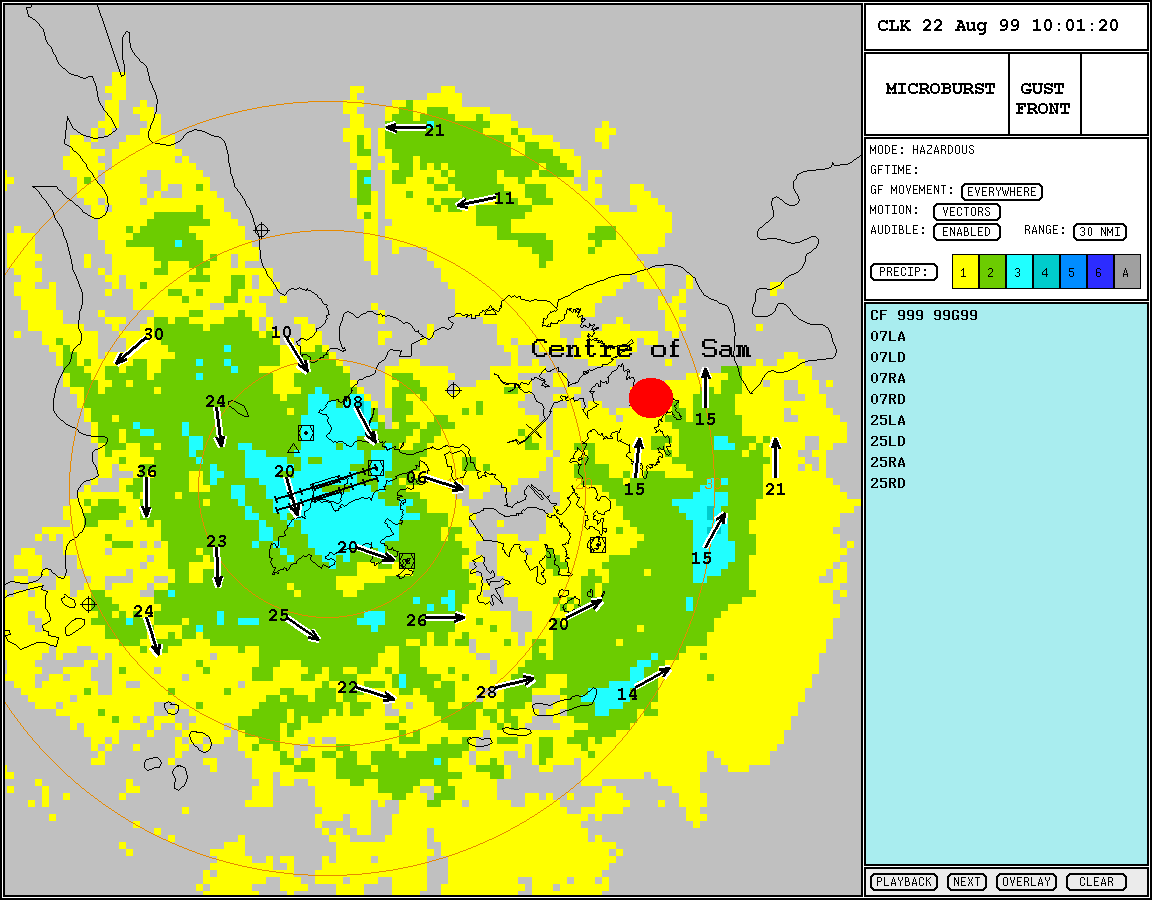 Fig. 5 TDWR Graphical Situation Display (centre of Sam is marked by a red circle)
An aircraft accident occurred at HKIA in the evening of 22 August. The airport was closed for several hours and over 360 flights were delayed or cancelled in the next few days.


Typhoon York
York was the first tropical cyclone since 1983 which necessitated the hoisting of Hurricane Signal No. 10. The signal was in force for 11 hours, the longest on record.
The eye of York was closest to the HKOHq at around 10a.m. on 16 September when it was about 20 km to the south-southwest. Moving west-northwestwards at a speed of about 10 km/h, York skirted Lamma Island and Cheung Chau before crossing the southwestern part of Lantau.
Strong to gale winds were recorded at the HKIA between 3 a.m. and 9 p.m. on 16 September with winds attaining gale force between 5 a.m. and 11 a.m. A maximum hourly wind of 41 knots and a maximum gust of 61 knots were recorded. The maximum 10-minute crosswind experienced was 41 knots.
Severe weather disabled road as well as air traffic. More than 470 flights were delayed or cancelled in adverse weather and about 80000 passengers were affected.
Typhoon York also wreaked havoc at sea. A cargo vessel sank west of Lantau Island, but its five crew were rescued by a Government Flying Service helicopter. Two other vessels went aground. A liquefied petroleum gas tanker drifted towards Chek Lap Kok, forcing the closure of the airport's northern runway on 16 September.
Severe Tropical Storm Cam
Moving northwestwards, Cam crossed the eastern part of Hong Kong at around 10:45 a.m. on 26 September. It then turned west-northwestwards and traversed the northern part of Hong Kong before entering Deep Bay at around noon.
Cam was closest to the HKOHq at around 11a.m. on 26 September when it was about 10 km to the north-northeast. Strong winds were recorded briefly for an hour at the HKIA between 11 a.m. and 12 noon with a maximum hourly wind of 24 knots and a maximum gust of 43 knots. The maximum 10-minute crosswind experienced was 23 knots.
During the passage of Cam, about 100 flights were cancelled or delayed.
Aircraft Accident on 22 August 1999
At around 6:45 p.m. on 22 August 1999, an MD11 aircraft with flight number CI642 from Bangkok crashed on the HKIA Runway 25L. Of the 315 persons on board, 3 were killed, 213 were injured, and 99 did not suffer from injury.
According to the preliminary investigation report published by the Civil Aviation Department, Hong Kong was affected by weather associated with severe tropical storm Sam, centred at approximately 50 kilometers northeast of HKIA around the time of the accident. The No. 8 Northwest Gale or Storm Signal was hoisted by the HKO. Warnings of gale force northwesterly winds with gusts exceeding 50 knots, turbulence and thunderstorms issued by the AMO were effective at the time of the accident. The HKO's WTWS gave warnings of moderate turbulence but no windshear alerts at the time of the accident, and there were no reports of windshear from pilots flying into or out of HKIA on that day. However, in view of the prevailing meteorological conditions, a warning to pilots to expect significant windshear and severe turbulence on the approach and departure was included in the Automatic Terminal Information Service (ATIS) broadcast prior to and at the time of the accident. Before commencing descent into Hong Kong, the flight crew were given a mean surface wind of 300 degrees at 35 knots and a runway visual range (RVR) of 650 metres in heavy rain by the ATIS. Apart from the ATIS broadcast, the crew were given the following weather information by the Hong Kong Tower:
| Time | Weather information given by Tower |
| --- | --- |
| 6:41 p.m. | Visibility in the touchdown zone of 1600 metres and a wind direction from 320 degrees at 25 knots, gusting to 33 knots |
| Around 700 feet above touchdown | wind 320 degrees at 28 knots, gusting to 36 knots |
After the accident, HKO provided a large volume of meteorological information to the Civil Aviation Department to support the accident investigation. The final accident report is expected to be completed in about 2 years.
Telephone: Officer-in-charge AMO (852) 2910 6300,
(852) 2922 5805
Duty Forecaster AMO (852) 2910 6920,
(852) 2922 5806
Enquiry on flight documents (852) 2910 6921

Correspondence
We welcome comments and suggestions on our aviation meteorological services. Please send them to the following address:

Director of the Hong Kong Observatory
134A Nathan Road
Kowloon, Hong Kong
(Attn.: Officer-in-charge, Airport Meteorological Office)