Social and Economic Impact of Tropical Cyclones
Social and Economic Impact of Tropical Cyclones
In the early days of Hong Kong, many people inhabited in squatter huts on precarious slopes or in low-lying areas, while a large number of fishermen lived in fishing boats. Nowadays, the situation has changed significantly. Hong Kong is no longer just a small fishing and trading port along the coast of southern China.
While the era of heavy casualties in thousands associated with the passages of tropical cyclones seems to have receded to the distant past (see Figure 1), yet the chance of occurrences of extreme weather has increased in time as a result of global warming. With the gradual rising sea levels globally, (see Figure 2), the risk of coastal flooding brought by storm surges will heighten accordingly.
Hurricane Sandy struck the east coast of the United States in October 2012. Storm surges flooded the New York City subway system, and fires broke out in inundated power plants, seriously impacting on the citys inhabitants. More than 100 people were killed (see Photo). It vividly shows the impact of storm surges to modern social and economic activities. As such, disaster prevention and mitigation measures against tropical cyclones and storm surges should not be relaxed.
Hong Kong is now an international city of great diversity. With the extensive development of new towns, commuting becomes part of daily life for its citizens. In an effort to avoid traffic chaos, the Hong Kong Observatory liaises closely with major transport operators and relevant government departments to ensure a state of readiness among their emergency response units. The aim is not just for the purpose of maintaining the smooth operation of public services, but also for the safety assurance of various infrastructural facilities. The passages of typhoons inevitably bring about a certain degree of inconvenience to our daily life; yet it is the threat posed to public safety that should never be overlooked.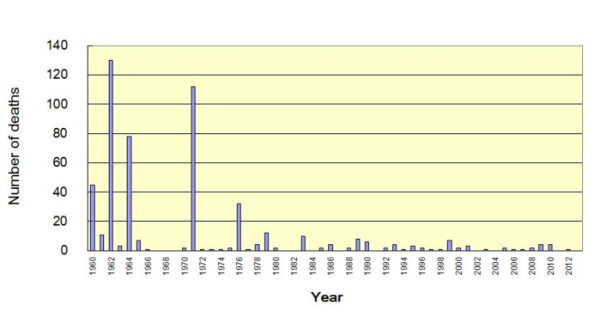 Figure 1. Casualties caused by tropical cyclones affecting Hong Kong during 1960-2012. A number of historical typhoons brought heavy casualties in thousands during the early years: more than 10,000 deaths in 1906 and in 1937, and more than 2,000 deaths in 1874.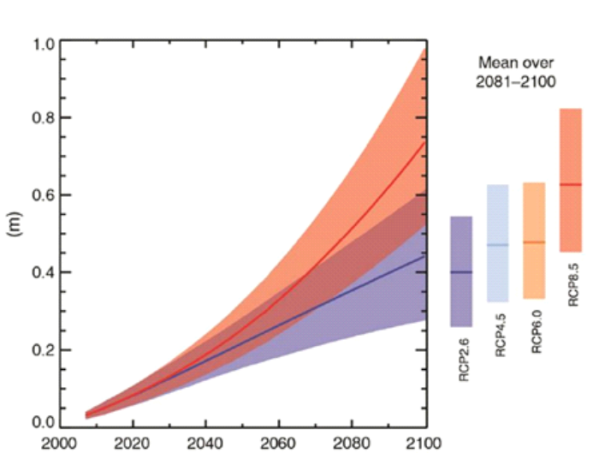 Figure 2. Projections of global mean sea level rise over the 21st century (relative to 1986-2005). The different colours represent different greenhouse gas concentration scenarios. The assessed likely range is shown as a shaded band. (source: Summary for Policymakers of the Working Group I contribution to the Intergovernmental Panel on Climate Change Fifth Assessment Report).
Photo. People being evacuated from a neighbourhood in Little Ferry, New Jersey, one day after Hurricane Sandy slammed the east coast of the United States on 30 October 2012. (©AFP (Mehdi Taamallah))