IACE 2012' Visit the Observatory
30 July 2012
On the morning of 25 July, thirty 'IACE 2012' participants from eight countries accompanied by ten local members of Hong Kong Air Cadet Corps (HKACC) visited the Hong Kong Observatory. This is the fourth year the International Air Cadet Exchange made visiting the Observatory an item of its programme in Hong Kong.
Weather is a crucial factor for aviation. During the visit, the participants attended lectures on aviation meteorology and the Observatory's aviation weather services. Apart from the exhibition hall in which meteorological measuring equipments were exhibited, the participants also visited the Central Forecasting Office to learn how weather observations and forecasts were made.
The Observatory would be happy to continue to promote meteorological knowledge and contribute to the international exchange through partnering with HKACC.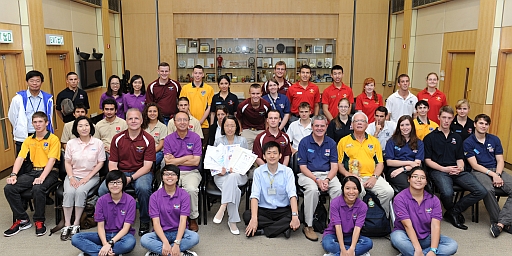 A group photo of the 'IACE 2012' participants, members of the Hong Kong Air Cadet Corps and Observatory staff showing the happy moment of the visit.