Another Round of Familiarization Flights
4 June 2012
Five Observatory's staff participated in the familiarization flights arranged by the Hong Kong Dragon Airlines in April and May. It was the third round of familiarization flights since 2005. The objectives are to enable staff working in aviation weather services to better understand how air pilots utilize weather information during flight; to obtain pilots' feedback on the present Observatory's aviation weather products and services and to exchange views on the future service developments.
During the familiarization flights, participants in the cockpit witnessed how pilots acquired the latest weather information and responded to it; how they communicated with air traffic controllers to take appropriate actions to avoid weather impacting aviation safety like turbulence and cumulonimbus clouds as far as possible. Familiarization flights helped impress the participants the great importance of aviation weather services to the aviation community. High quality aviation weather services are required for aeronautical personnel to prepare and respond effectively in severe weather situations, contributing towards the safety, regularity and efficiency of air navigation. The live experience of encountering significant weather in flight and direct exchanges with pilots are very useful for the enhancement of the Observatory's aviation weather services.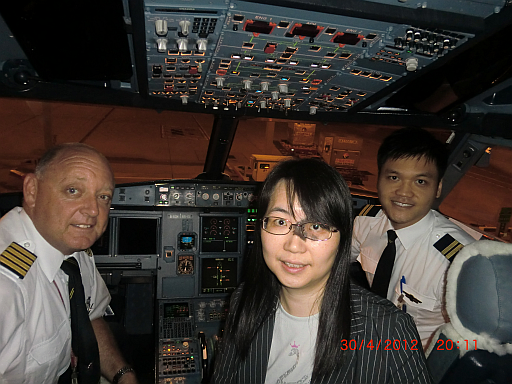 Ms. Sara Wong (middle), an aviation forecaster of the Observatory, taking a photo with Captain Craig Phillis (left) and First Officer Kenneth Mak (right) of the Hong Kong Dragon Airlines in the cockpit during the familiarization flight.