The Observatory organised the World Meteorological Organization Workshop on "Implementing Competency Assessment for Aeronautical Meteorological Personnel"
9 December 2011
The Hong Kong Observatory organised an international workshop on "Implementing Competency Assessment for Aeronautical Meteorological Personnel" on 5-9 December 2011.
Miss Sharon Lau, Assistant Director of the Observatory, said at the Opening Ceremony, "Aeronautical meteorological service providers must be able to demonstrate that their aeronautical meteorological personnel satisfy the World Meteorological Organization (WMO) Competency Standards from 1 December 2013. This workshop aims to promote sharing of experience among Members in the implementation of competency assessment for aeronautical meteorological personnel to satisfy these Standards."
One of the overseas lecturers, Mr Kent Johnson, Chair of the WMO Task Team on the Competency Assessment Toolkit, commended HKO's effort in promoting and assisting WMO Members to implement competency assessment and quality management system. He also commended the Observatory for her provision of the excellent facility and superb local arrangements for the workshop.
Mr Junichi Ishida, a participant from Japan, remarked that the objectives for attending this workshop were well achieved and he would share the acquired knowledge with his colleagues and develop the competency assessment system for aeronautical meteorological personnel in Japan after returning home.
Hong Kong, China is one of the first WMO Members to implement the competency assessment system to satisfy the WMO Competency Standards for aeronautical meteorological personnel approved by the 16th World Meteorological Congress in May 2011.
The workshop marked the 13th occasion that the Observatory organised workshop or training course under the Voluntary Cooperation Programme (VCP) of the WMO. There were 21 participants from 20 countries, including Cambodia, China, Cook Islands, Fiji, Indonesia, Japan, Kiribati, Lao PDR, Malaysia, Mongolia, Myanmar, Papua New Guinea, the Philippines, Solomon Islands, Samoa, Saudi Arabia, Singapore, Thailand, Uzbekistan and Vietnam, in this workshop.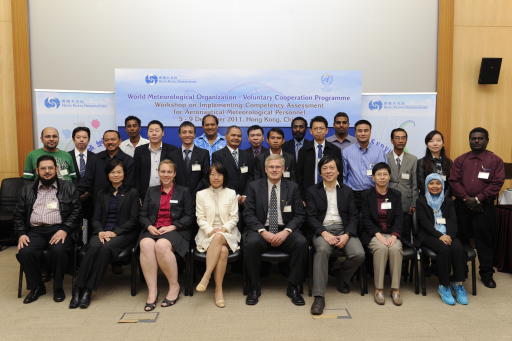 Participants of the Workshop on "Implementing Competency Assessment for Aeronautical Meteorological Standards" taking a group photo at the Hong Kong Observatory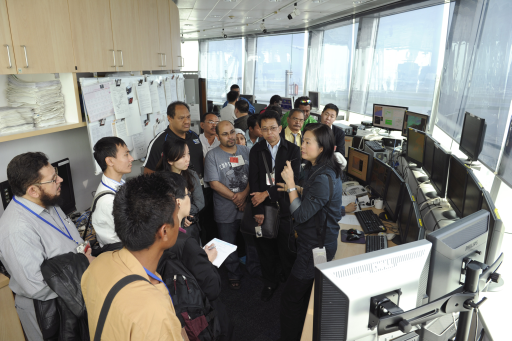 Ms Queenie Lam (the one holding a microphone), Senior Scientific Officer of the Hong Kong Observatory, introducing Hong Kong's aviation weather service to the workshop participants during a visit to the Airport Meteorological Office