Hong Kong's Aviation Weather Services Showcased in "Wonder Airport" Programme
19 September 2011
Ms Queenie Lam, Head of the Aviation Weather Forecast and Warning Services Division of the Hong Kong Observatory, showcased Hong Kong's aviation weather services in a travelogue documentary programme "Wonder Airport". The filming crew was interested in the Observatory's windshear and turbulence warning service and the first application of a Doppler Light Detection And Ranging (LIDAR) for operational windshear detection in fine weather conditions. Another system which had attracted much interest was the Aviation Thunderstorm and Lightning Alerting System (ATLAS), for detecting and forecasting thunderstorms activities for protection of ground staff working at the Hong Kong International Airport (HKIA).
When asked what made the Observatory a reputable meteorological service in the aviation community, Ms Lam said, "The strengths of the aviation weather services provided by the Observatory lie in the good mix of people and technology. The Observatory's professional team shares a strong sense of service culture with international perspective, and always strives for improvement."
HKIA has been named the world's best airport for the fifth year. BS Nippon Television Corporation, at the invitation of the Hong Kong Tourism Board, made a 60-minute documentary "Wonder Airport" with the theme "The best airport where east meets west. Exploring the airport to see the secrets of the world best airport". The aviation weather services provided by Hong Kong Observatory would be featured in the programme. The LIDAR Windshear Alerting System (LIWAS) was granted the Award of the Year, the top award in the Hong Kong ICT Awards 2009, standing out from more than 600 entries. On the same occasion, it was also honoured with the Best Innovation and Research Grand Award as well as the Gold Award for the Open stream. The other system, ATLAS, was granted the Silver Award in the "Best Public Service Application (Small Scale Project) Award" category of the Hong Kong ICT Awards 2008.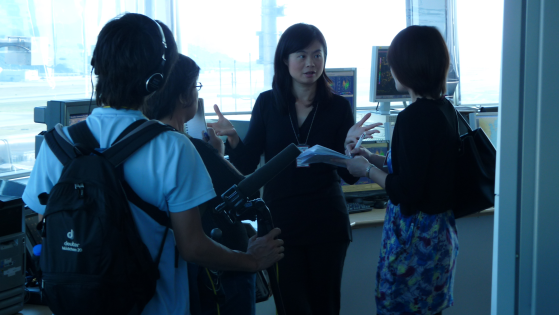 Ms Queenie Lam, Senior Scientific Officer of the Hong Kong Observatory, gave an interview in the documentary TV programme "Wonder Airport"