The Observatory supported Flying without Boundary - Aviation Day 2009"
13 October 2009
On 27 September (Sunday), the Hong Kong Observatory participated in the "Flying without Boundary - Aviation Day 2009" on invitation by the Hong Kong Aviation Club Foundation. The event was jointly organised by the Hong Kong Aviation Club Foundation and the Chinese YMCA of Hong Kong at the Kai Tak clubhouse of the Hong Kong Aviation Club. Other participating organizations included the Civil Aviation Department, local airlines and helicopter companies, as well as various local aviation sports associations. Organized about once every two years, the aviation day aims at promoting aviation education and culture in Hong Kong.
The event was featured with exhibition, game booths and display of different models of fixed-wing aircrafts and helicopters. The Observatory set up an exhibition booth to introduce to members of the public the weather services for the aviation community. Apart from introducing windshear and other aviation impacting weather elements, the aviation forecasters also demonstrated the effect of windshear on an aircraft in a vivid and interesting way by using a windshear computer game developed by the Observatory. The game was particularly welcomed by the children.
The Observatory's booth was well received by local aviators and members of the public. The Observatory has been maintaining close ties with the local aviation community,sparing no effort in promoting education on aeronautical meteorology in Hong Kong.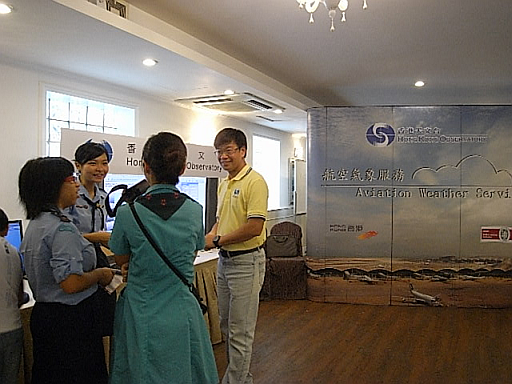 An aviation forecaster (right) explaining to the visitors on the types and mechanism of windshear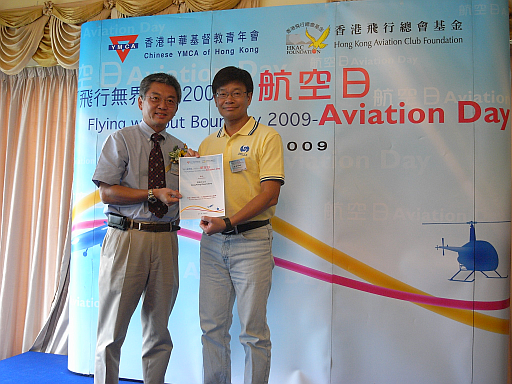 Mr FC Shum (right), an experienced aviation forecaster, received an appreciation award from the Chief Pilot John Li (left)