Familiarization Flights
14 August 2009
Four aviation forecasters of the Hong Kong Observatory (HKO) participated in familiarization flights in June arranged by the Hong Kong Dragon Airlines. During the flights, the aviation forecasters had the opportunity to witness in the cockpit how the air pilots made use of the aviation weather services provided by HKO. This enhances the aviation forecasters' understanding of the pilots's perception of the services, providing opportunity for service enhancement. It was the second round of familiarization flights that the Observatory's staff had taken part in since 2005.
Through the familiarization flights, the aviation forecasters gained a better idea of how pilots acquired the latest weather information from the cockpit, under what weather conditions did they communicate with air traffic controllers, and what actions they took in response to encounter of weather affecting their flights. The pilots expressed their needs and expectations for integrated and reliable flight-route specific weather information. It is apparent that a future trend in dissemination of weather information would be through uplinking graphical products of significant weather in the vicinity of the flight route directly to the cockpit.
The close face-to-face interactions with pilots and the live experience of encountering significant weather in flight made the familiarization flights most rewarding and fruitful for the Observatory's staff. The Observatory will strive to enhance aviation weather services to meet the needs of aviation users and further enhance flight safety.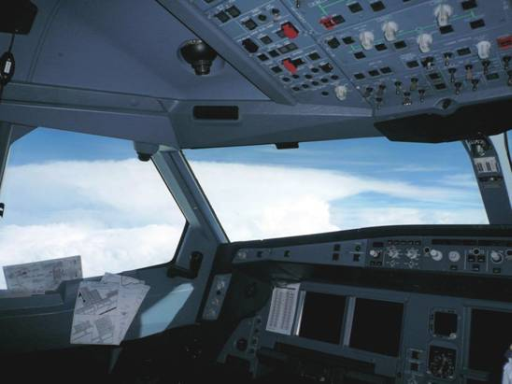 Capture of a huge thundery cloud in bright white colour through the windows of the cockpit. The top and the anvil of the thundery clouds could be clearly seen.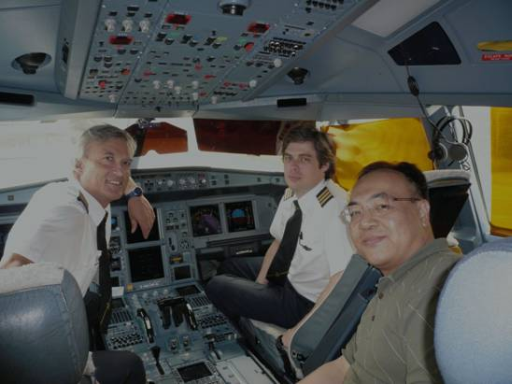 Mr. Paul Ho (right), an aviation forecaster of the Observatory, taking a photo with Captain Mark Lynch (left) and First Officer Thomas Ferrand (middle) of Hong Kong Dragon Airlines in the cockpit during the familiarization flight.