Civil Aviation Administration of China (CAAC) Air Traffic Management Bureau delegation visited the Hong Kong Observatory
16 November 2010
Mr. Gao Yi, Deputy Director General of Air Traffic Management Bureau (ATMB) of CAAC, led a delegation of a total of 8 people, which included the Director of ATMB MET Division Mr. Chen Bao, Deputy Director-General of the Civil Aviation Meteorological Centre Ms Zhou Jian Hua and other meteorologists from different regions in the Mainland, visited the Observatory during 9-10 November 2010 and attended the bi-annual senior meeting of CAAC and HKO. The meeting reviewed the collaboration between the two aviation meteorological services over the past two years, in particular, the recently established Pearl River Delta Working Group and Meteorological Services for Terminal Area Working Group, and to set the direction for future cooperation.
At this senior management meeting, both sides agreed to increase exchanges at both management and working level. Moreover sharing of data will be increased as a step towards mutual information sharing. Both sides also agreed to coordinate and cooperate on international matters with a view to exert greater influence on the development of aviation meteorological services in the international arena.
The delegation visited the
Hong Kong
Meteorological
Center
at the Observatory's Headquarter, the Airport Meteorological Office, Civil Aviation Department and various divisions of Cathay Pacific Airways. The delegation found this visit very fruitful and was particularly impressed by the professionalism of the Observatory staff in provision of aviation weather services. Through this visit, the delegation became more familiar with the Observatory's aviation weather services, and this would facilitate further cooperation between the two organizations.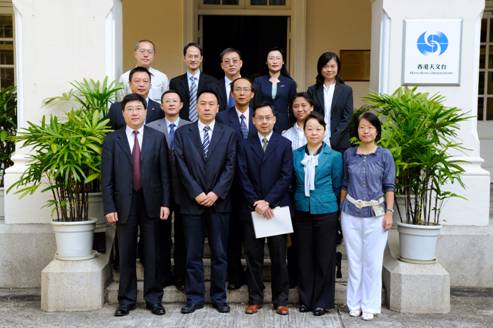 Dr. B.Y. Lee, Director of the Hong Kong Observatory (center of 1st row) photographed with Mr Gao Yi, Deputy Director General of ATMB, CAAC (second from the left of 1st row), members of the delegation and staff of the Observatory at the Headquarters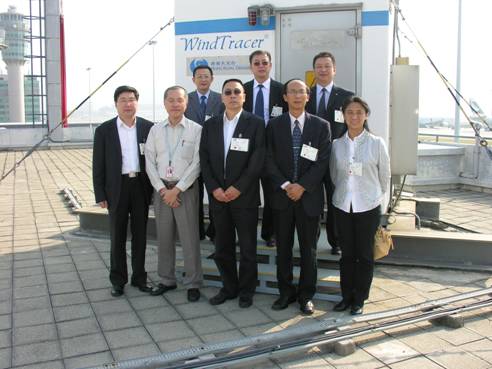 Mr Gao Yi, Deputy Director General (center of 1st row), and other delegates photographed with Mr. P.W. Chan of the Hong Kong Observatory (second from left of 1st row) at the LIDAR station of the Hong Kong International Airport.