Assistant Director Officiating at the Launch of the Asia Aeronautical Meteorological Services Website
16 November 2010
Mr SHUN Chi-ming, Assistant Director of the Hong Kong Observatory (HKO), attended the operational launch ceremony of the Asia Aeronautical Meteorological Services Website held in Beijing on 4 November 2010. Together with the Deputy Secretary-General of the World Meteorological Organization (WMO) Jeremiah Lengoasa, Deputy Administrator of the Civil Aviation Administration of China (CAAC) Xia Xing-hua, and Deputy Administrator of the China Meteorological Administration (CMA) Shen Xiao-nong, Mr Shun declared the Website operational. Mr Shun attended the event in the capacity of President of the Commission for Aeronautical Meteorology (CAeM) of WMO.
Addressing at the ceremony, Mr Shun said, "this occasion is very meaningful for all those who had participated in the development work for the project, especially the originator of the project proposal Mr Lam Chiu-ying, ex-Director of HKO, and the coordinator of the project Ms Jiao Mei-yan, Deputy Administrator of CMA. It is a culmination of continuous efforts over the past six years. On behalf of CAeM, I would like to express my appreciation to the contributions provided by CMA and CAAC in the establishment and operation of the Asia Aeronautical Meteorological Services Website. I also look forward to seeing similar developments and international cooperation in other regions so that more WMO Members could benefit".
The Asia Aeronautical Meteorological Services Website provides, inter alia, flight documents, aviation forecast products, numerical forecast guidance products, meteorological satellite and radar information. It was established by a WMO pilot project which commenced in 2004. Since its semi-operational use in 2007, the Website has provided assistance in aeronautical meteorological services to over 20 members from developing countries.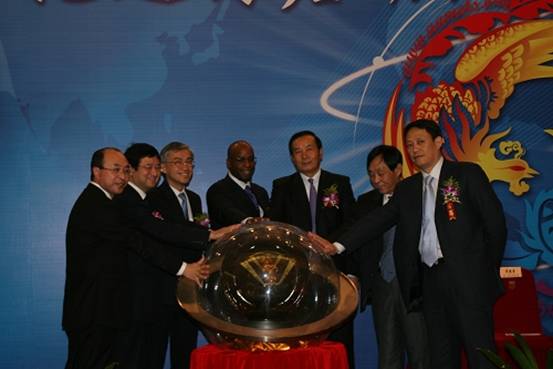 Photo caption: Shun Chi-ming (third from left), together with the Deputy Secretary-General of WMO Jeremiah Lengoasa (middle), Deputy Administrator of CAAC Xia Xing-hua (third from right), and Deputy Administrator of CMA Shen Xiao-nong (second from left), declared the Asia Aeronautical Meteorological Services Website operational