Hong Kong Observatory and Shanghai Meteorological Bureau sign co-operation plan
27 February 2016
The Hong Kong Observatory and the Shanghai Meteorological Service signed a Co-operation Plan in Beijing on 29 February 2016 to enhance technical co-operation and exchange between both parties.
A long-term and steady co-operation mechanism between the Hong Kong Observatory and Shanghai Meteorological Service was set up under the framework of the "Arrangement in Long-term Co-operation in Meteorological Science and Technology" between China Meteorological Administration and the Hong Kong Observatory. Areas of exchange and cooperation include aviation meteorology, short-term weather forecasting and nowcasting, meteorological services, tropical cyclone observation, etc. to promote the development of modern meteorological services and operations in mega city.
Last year, an aviation research demonstration project of the World Meteorological Organization (WMO) led by the Hong Kong Observatory was kicked off in Shanghai. Both the Hong Kong International Airport and the Shanghai Hongqiao International Airport are members of a total of six airports participating in this demonstration project. Besides, both parties also co-operate in other forecast demonstration projects of WMO.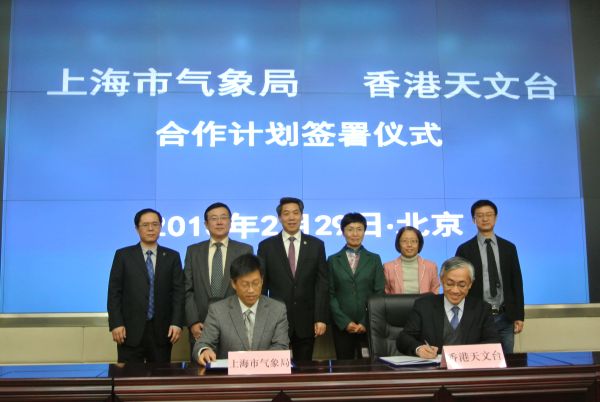 The Director of the Hong Kong Observatory (HKO), Mr Shun Chi-ming (front right), and the Director-General of Shanghai Meteorological Service, Mr Chen Zhenlin (front left), signing the "Co-operation Plan", witnessed by the Administrator of China Meteorological Administration (CMA), Dr Zheng Guoguang (back, third left); Deputy Administrator of CMA, Ms Jiao Meijan (third right); Director-General of International Cooperation of CMA, Mr Zhou Heng (second left); Assistant Director of HKO, Miss Lau Sum-yee (second right); Director-General of Forecasting and Networking of CMA, Mr Gu Jianfeng (first left) and Deputy Director of Shanghai Meteorological Service, Mr Feng Lei (first right).