The Observatory supporting the Hong Kong Polytechnic University's General Education Course - "Climate and Our Environment"
30 November 2009
The Hong Kong Observatory, in collaboration with the Hong Kong Polytechnic University's Applied Physics Department, organized a general education course entitled "Climate andour Environment" for students of the university between September and November 2009.The course included the introduction of differentweather phenomena andmeasurements of variousweather and environmental elements. Dr. Lee Tsz-cheung, Acting Senior Scientific Officer of the Observatory, delivered talks on topics related to climate change includinggreenhouse effect, global warming and urban heat island effect. Dr. Lee also introduced to the students the Observatory's work in weather monitoring and forecasting. Two visits were arranged for the students, one to Ho Koon Nature Education cum Astronomical Centre, and the other to the Hong Kong Observatory headquarters.
For information on other cooperation programs between the Observatory and the Department of Applied Physics of the Hong Kong Polytechnic University, please visit the
"Community Weather Information Network" website
.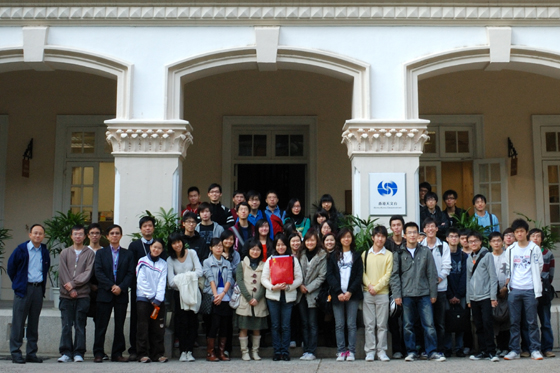 Students of the Hong Kong Polytechnic University visiting the Observatory headquarters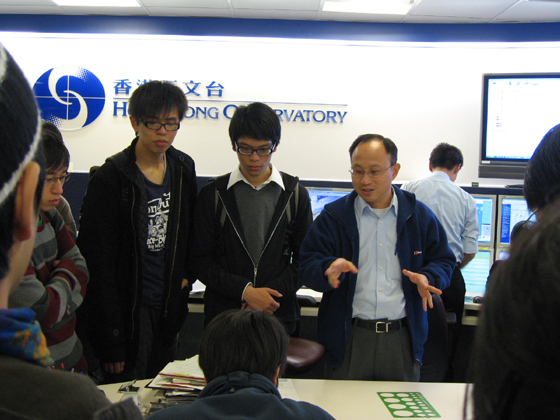 Dr. Lee Tsz-cheung (1st right)explaining the work of the weather forecaster to students of the Hong Kong Polytechnic University