Science in the Public Service' campaign - scientific work gets recognized overseas
30 August 2007
The Observatory received and granted a request from an expert from MeteoFrance, the national meteorological service in France, for using the material in a symposium organized by the 'Science in the Public Service' campaign in 2006.
The request relates to the article 'Wind shear- its detection and alerting' prepared and presented by Dr. P.W. Li, Scientific Officer of the Observatory, during the symposium. The expert from MeteoFrance spoke highly of the article and indicated that he would use it in a course in L'Aquila, Italy, on how to use remote-sensing weather data in aviation.
The symposium was officiated by Mr. Joseph Wong Wing-ping, the then Secretary for Commerce, Industry and Technology, and was attended by over 300 participants from the tertiary and education sectors.
Full details about the campaign can be found in: www.science.gov.hk, while the technical write-ups in the symposium, including the above article on windshear, can be found in
http://www.science.gov.hk/eng/info-symposium-paper.htm.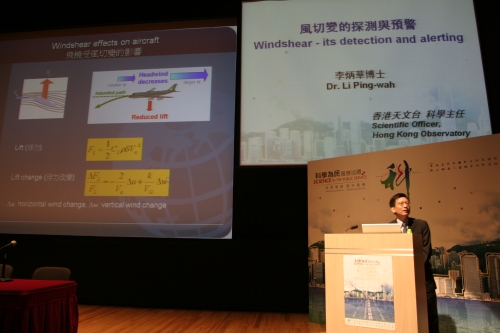 Dr. P.W. Li presenting windshear detection and alerting during the symposium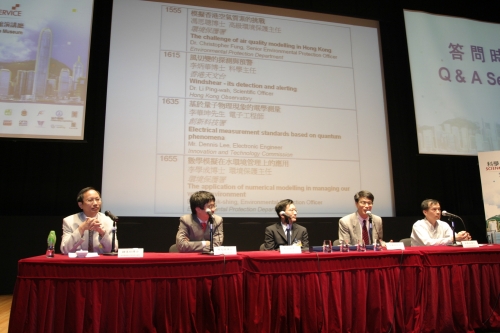 Panel discussion after the presentations