Hong Kong Observatory will participate in the Beijing 2008 Olympic Games Forecast Demonstration Project
13 April 2005
At the invitation of the World Meteorological Organization (WMO), Dr. M.C. Wong, Assistant Director, and Dr. P.W. Li, Scientific Officer, attended the 1st WMO Workshop of WWRP (World Weather Research Program) B08FDP/RDP held in Beijing from 29 to 31 March 2005 . The Workshop was organized by WMO and China Meteorological Administration (CMA) with a view to formulating strategies on the implementation of the Beijing 2008 Olympic Games Forecast Demonstration Project (B08FDP) and Beijing 2008 Olympic Games Research Demonstration Project (B08RDP). The Observatory's nowcasting system, the "SWIRLS", has been selected as one of the participating systems in the B08FDP. Furthermore, Dr. P.W. Li has been elected as a member of the B08FDP Science Steering Committee.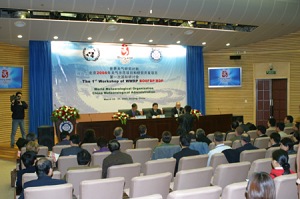 The 1st WMO Workshop of WWRP B08FDP/RDP, Beijing, 29 - 31 March 2005.
The primary objective of the B08FDP is to test the capabilities of the state-of-the-art nowcasting systems in predicting the occurrences of severe weather such as rainstorm, hail, lightning, etc., during the Olympic Games. The invited participants are all world-class centers operating/developing nowcasting systems, including, Beijing Meteorological Bureau, Bureau of Meteorology (Australia), Chinese Academy of Meteorological Sciences, Hong Kong Observatory, Japan Meteorological Agency, Meteorological Services of Canada, National Centre for Atmospheric Research (US), National Severe Storm Laboratory (US), and United Kingdom Meteorological Office. The SWIRLS system developed by HKO was highly regarded by the experts in the Workshop. Through participation in the Project, the Observatory keeps abreast of the state-of-the-art technology on nowcasting, identify the strengths and weaknesses of the SWIRLS to facilitate further system improvement and contribute to the provision of high-quality weather service in support of the Beijing 2008 Olympic Games.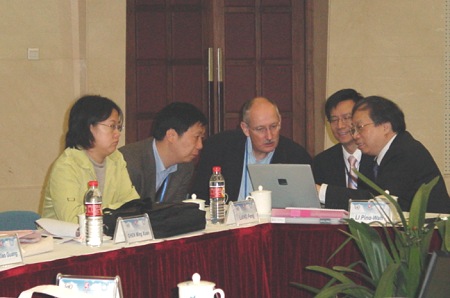 Friendly Discussions
(Drs. M.C. Wong and P.W. Li exchanging views with WMO and CMA experts)