The Hong Kong Observatory won the eGovernment - Most Popular ePublic Service Silver Award
5 December 2006
The Hong Kong Observatory (HKO) competed in the Hong Kong Information and Communications Technology (ICT) Awards 2006 and won the Silver Award in the category of "eGovernment - Most Popular ePublic Service". The ICT Awards 2006 was supported by the Office of the Government Chief Information Officer of the Government of the Hong Kong Special Administrative Region. The Hong Kong Institute of Engineers - IT Division was responsible for organizing the eGovernment Awards. The judging panel of the "eGovernment - Most Popular ePublic Service Award" praised that "The Observatory has totally satisfied the increasing demands of the Hong Kong public for more comprehensive, accurate and timely weather information. ... More importantly, the Observatory puts a lot of efforts in compiling weather education material and putting them on the web to raise the awareness of the public on weather phenomena".
The award ceremony was held on 22 November 2006 at the Hong Kong Convention and Exhibition Centre and officiated by the Financial Secretary, Mr Henry Tang. On the award presentation day, a booth with demonstration on the HKO website was set up and attracted quite a number of visitors. All were impressed by the demonstration.
Our staff is highly encouraged by the award. HKO will continue to provide a quality web service to the public.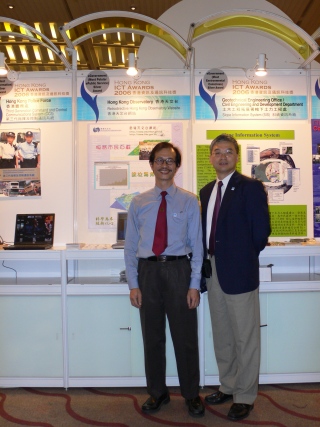 The exhibition booth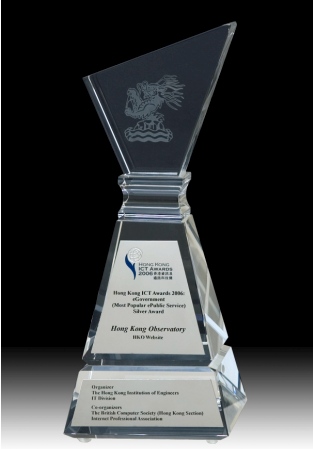 The eGovernment - Most Popular ePublic Service Silver Award