The Hong Kong Observatory emerged as a winner in the Civil Service Outstanding Service Award Scheme in 2005
12 December 2005
In the Civil Service Award Scheme in 2005, the Hong Kong Observatory won the top honour in the Departmental Award for Service Enhancement in the small department (less than 1000 staff) category. The Observatory's Electronic Maintenance Team (Radiation) also won a merit award under the Innovation/Application of Technology category.
To compete for the Departmental Award for Service Enhancement the Observatory put together a team consisting of representatives from the Scientific Assistant and Scientific Officer grades to make presentations to the adjudication panel. The team focused on the new services introduced by the Observatory in recent years, with particular emphasis on the Observatory's effort in enhancing the content of services and the means of delivery, and in promoting its public image.
For the Innovation/Application of Technology Award, colleagues of the Electronic Maintenance Team explained their work in setting up the automatic upper-air sounding system, designing a new generation of radiation contamination monitoring system for potable water, as well as enhancing efficiency through application of new technologies such as mobile telephony, global positioning system (GPS) and geographical information system (GIS).
During the adjudication for the departmental award, professional consultants visited the Observatory to examine different facets of work, while an adjudication panel interviewed the Observatory's representatives. The adjudication panel was impressed by the accomplishments of the Observatory and the enthusiasm of the Observatory's representatives, and the Observatory emerged as the champion.
One of the team members, Mr Wat Kam-sing, remarked after attending the prize presentation ceremony on 2 December, "What really counts in the competition for the Departmental Service Enhancement Award is actual achievement. The fact that we won the award is a reflection of our care for the public, and our effort to strive for new ideas to improve our service. This award is not only a recognition of the importance of our work, but also gives fresh impetus for us to excel."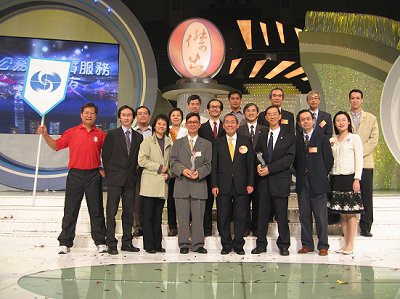 The Observatory's Director and staff sharing the excitement of being the crowned champion
with the Secretary for Civil Service, Mr Joseph Wong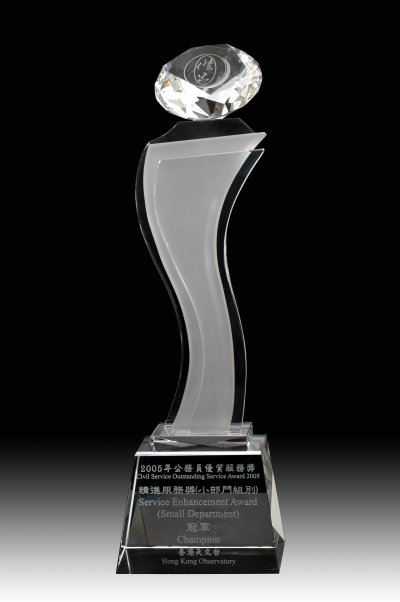 The Hong Kong Observatory won the top honour in the Departmental Award
for Service Enhancement in the small department category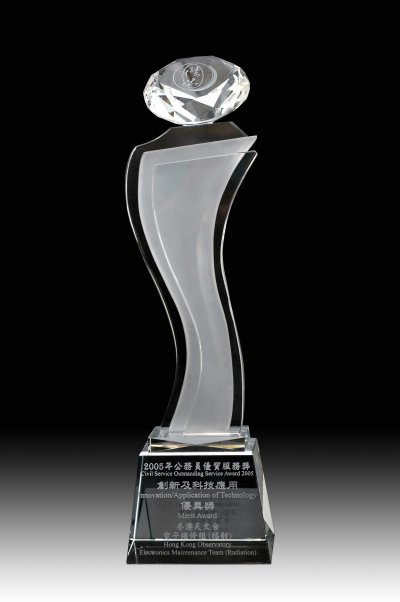 The Observatory's Electronic Maintenance Team (Radiation) won a merit award
under the Innovation/Application of Technology category