The Hong Kong Observatory received the Web Care Award
27 October 2005
The Hong Kong Observatory participated in the Web Care Campaign 2005 organized by the Internet Professionals Association and received the "Web Care Award 2005". The award was presented to private and public organizations for their effort in creating accessible websites for persons with different needs. It was the third award presentation since the launch of the Web Care Campaign. The Hong Kong Observatory has received the award for two consecutive years.
The Web Care Campaign 2005 Award Presentation Ceremony was held on 22 October at Hotel Mirama in Tsim Sha Tsui. Among the distinguished guests present were Dr. Elizabeth Quat, President of Internet Professional Association (iProA); Mr. Raymond Tang, Chairperson, Equal Opportunities Commission; and Mr. Francis Ho, JP, the Permanent Secretary for Commerce, Industry and Technology (Communication and Technology).
Mr. Terence Kung, representative of the Hong Kong Observatory in the award presentation ceremony, was delighted by the receiving of the award. He expressed that the Observatory would continue to bridge the digital divide, so that all user groups, irrespective of social background, could benefit from the advancements in information and communication technologies.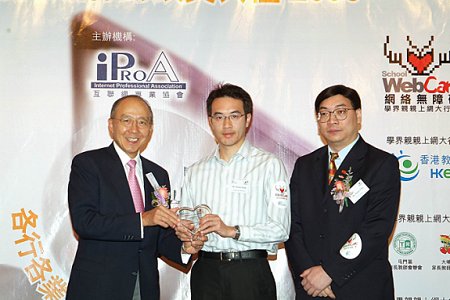 The Web Care Campaign 2005 Award Presentation Ceremony
Mr. Raymond Tang, Chairperson, Equal Opportunities Commission (left);
Mr. Terence Kung, Scientific Officer, Hong Kong Observatory (middle);
Mr. Peter Chu, Vice Chairman, Web Care Committee, Internet Professional Association (right)