Hong Kong Observatory represented at the Asian Conference on Disaster Reduction
14 October 2005
Mr C.Y. Lam, Director of the Hong Kong Observatory, participated as an invited expert in the Asian Conference on Disaster Reduction held in Beijing, 27-29 September 2005. He gave a presentation on "Disaster Risk Management - the Weather Perspective" which discussed the general principles as well as how Hong Kong coped successfully with potential disasters through a combination of engineering measures, weather warnings, contingency plans and the active involvement of the community.
Mr Lam also served as the co-chairman of the thematic sessions on "Comprehensive Disaster Management". He was on the podium presenting the summary report for the theme at the closing plenary session on 29 September, which adopted the Beijing Action Plan for Disaster Risk Reduction in Asia. Mr Lam also had an audience with State Councillor Hua Jianmin prior to the session.
The abstract of Mr Lam's presentation is here (English only).
Visit the website for the Asian Conference on Disaster Reduction to find out more.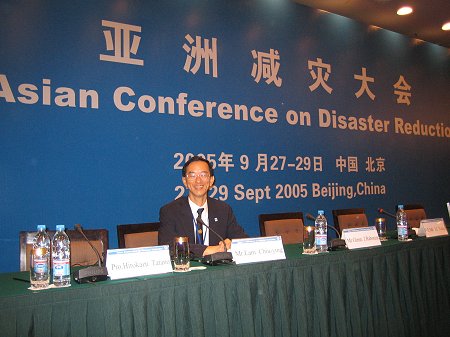 Director of the Hong Kong Observatory, Mr. C.Y. Lam, on the podium at
the Asian Conference on Disaster Reduction