The Observatory and the China Meteorological Administration reviewed aviation meteorological cooperation
26 March 2009
The Assistant Director of the Hong Kong Observatory (HKO) Mr. C.M. Shun visited the China Meteorological Administration (CMA) on 6 March 2009. He met with Ms Jiao Meiyan, Deputy Administrator of CMA and Dr. Duan Yihong, Director-General of the National Meteorological Centre, and discussed aviation meteorological cooperation. They reviewed the progress and achievements in the past two years of the "Asian Aviation Meteorology Service Website" (
http://www.aamets.org
) established for the World Meteorological Organization (WMO). This website was set up as a pilot project under the collaborative efforts of CMA, Civil Aviation Administration of China, WMO and HKO. It provides a number of aviation weather forecast products to assist developing countries in Asia in the provision of aviation weather services. Last year the website went a further step to provide specialized weather forecast guidance products for four airports in Laos, which was very much welcome by the local forecasters. Recently there is also a plan to provide significant meteorological (SIGMET) information on behalf of Cambodia for its airspace, with a long-term target of enhancing the capability of Cambodia in providing its aviation weather service. Both sides also agreed to enhance the cooperation between the Mainland and Hong Kong on aviation meteorology, with a view to promote its further developments within the meteorological and aviation communities.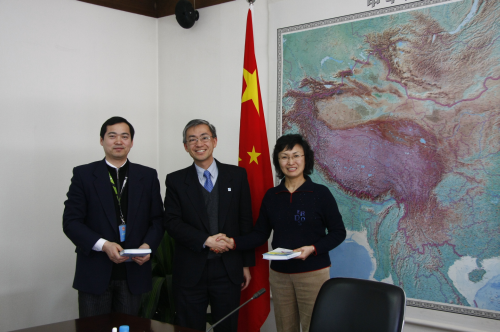 Mr. C.M. Shun (middle) presenting the book "Weathering the Storms", a collection of essays to commemorate the 125th anniversary of the Hong Kong Observatory, to Deputy Administrator Jiao Meiyan (right) and Director-General Duan Yihong after the discussion.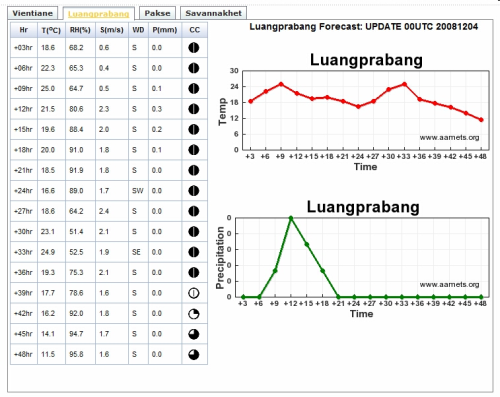 Aviation weather forecast products provided by the WMO "Asian Aviation Meteorology Service Website" for Laos.