Training Workshop on Quantitative Precipitation Forecast
26 February 2009
The Hong Kong Observatory conducted the "Training Workshop on Quantitative Precipitation Forecast (QPF)" during 9-11 February 2009. The workshop covered the application of two cutting-edge forecast techniques in QPF, namely nowcasting and numerical weather prediction modelling. At the invitation of the Observatory, three overseas experts visited Hong Kong as lecturers to lead the workshop. They are Dr. Alan Seed from the Centre for Australian Climate and Weather Research, Dr. Kazuo Saito from the Meteorological Research Institute of the Japan Meteorological Agency and Mr. Yuki Honda from the Numerical Prediction Division of the Japan Meteorological Agency. Among the workshop participants were also meteorological personnel from the China Meteorological Administration and the Macao Meteorological and Geophysical Bureau. In a short span of 3 days only, the participating forecast experts actively discussed and exchanged views on many hot topics, including the quantitative analysis of radar rainfall, nowcasting algorithms, non-hydrostatic atmospheric modeling, as well as mesoscale ensemble prediction. At the end of the workshop, Mr. Hai-lin Gui from the National Meteorological Centre aptly concluded the achievements of the workshop, "Very glad to have visited Hong Kong and participated in the workshop. We indeed derived many benefits from the informative lectures and stimulating tutorials delivered by the three experts. We are also deeply impressed by the pioneering technological developments undergoing in the Observatory. We sincerely hope that there will be more such academic exchanges in the future, allowing us to progress in tandem."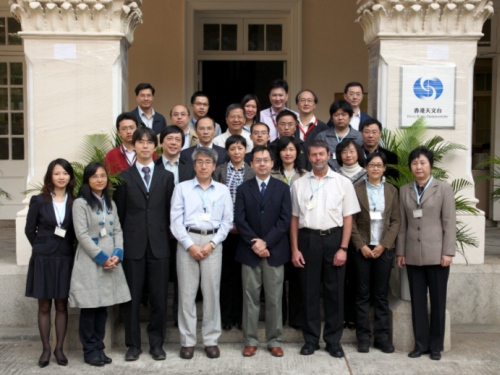 Group photo of participants in the "Training Workshop on Quantitative Precipitation Forecast". The middle four figures in the front row, starting from the left, are Mr. Yuki Honda, Dr. Kazuo Saito, Dr. Boon-ying Lee (Acting Director of the Observatory) and Dr. Alan Seed respectively.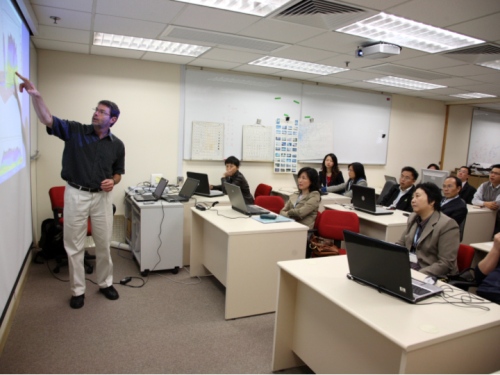 Dr. Alan Seed from Australia conducting his tutorial on radar rainfall.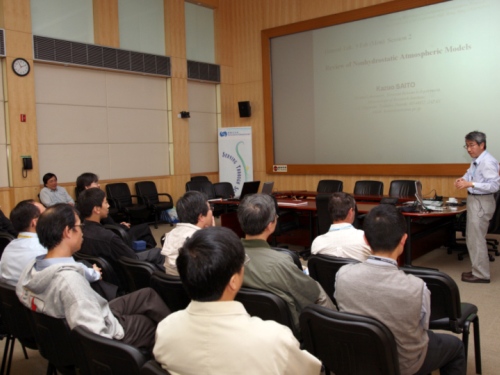 Dr. Kazuo Saito from Japan lecturing on the latest developments in non-hydrostatic atmospheric models.