Reaching out to South America and Africa
3 December 2008
At the invitation of the World Meteorological Organization (WMO), Ms. Sandy Song, Senior Scientific Officer of the Observatory, travelled far to Brazil and South Africa to deliver a series of lectures at two training workshops in September and November 2008. Fifty three meteorologists from twenty one South American and African countries attended the workshops. The lectures focused on the important role of public weather services in support of disaster prevention and mitigation, especially on the communication and coordination between meteorological services and disaster management stakeholders. The workshops were organized under the Public Weather Services (PWS) Programme of the WMO (http://www.wmo.int/pages/prog/amp/pwsp/eventsworkshops_en.htm).

After the lecture in Brazil, Mr. Jorge D. Chira La Rosa from Peru praised the successful experience of the Observatory in public weather services, which sets a role model for the meteorological community worldwide. The lectures would help him better coordinate disaster management activities. Ms. Emma Giada Matschinske from Brazil, the local organizer of the workshop, complimented Ms. Song on the lecture about media interviewing techniques, saying that the information was extremely useful.

After the lecture in South Africa, Mr. Prem Goolaup of Mauritius paid tribute to Ms. Song's excellent presentation, which provided them useful insights on how to further improve the public weather services in their country. The workshop stimulated enthusiastic responses and sharing of experience among the lecturers and participants.

Ms Song's lecturing for South American and African countries demonstrated the international recognition of the Observatory's expertise in public weather services, as well as the continual support of the Observatory for the developing world in enhancing public weather services in the international meteorological community.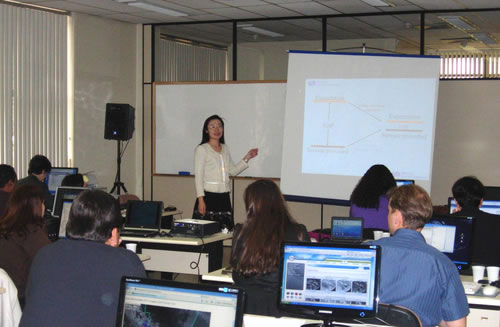 Ms. Song giving lecture to South American meteorologists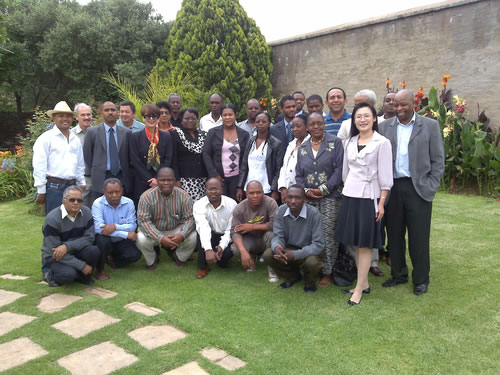 Ms. Song (front right) together with African participants