The Observatory Collaborates with International Organizations to Publish New Wind Shear Posters
20 August 2008
The Hong Kong Observatory (HKO), in collaboration with the International Federation of Air Line Pilots' Associations (IFALPA), World Meteorological Organization (WMO) and International Civil Aviation Organization (ICAO), has recently published a set of three new wind shear posters and distributed them to all ICAO Contracting States on behalf of ICAO. The three posters, entitled "Wind Shear- Their Causes", "Wind Shear- Warning and Alerting", and "Wind Shear- Pilot's Rules", replace the old posters published by ICAO between 1982 and 1990. The collaboration between the four organizations to publish the new posters is to promulgate the most up-to-date educational material on windshear for enhancement of aviation safety worldwide.
The wind shear posters are available in electronic form on the Observatory's website at:
http://www.hko.gov.hk/aviat/ws_poster/ws_poster.htm.
They are also available on the websites of IFALPA, WMO and ICAO to facilitate their widest promulgation in the aviation community:
IFALPA website: http://www.ifalpa.org/
WMO website: http://www.caem.wmo.int/moodle/
ICAO website: http://www.icao.int/anb/sg/metwsg/windshearposters.htm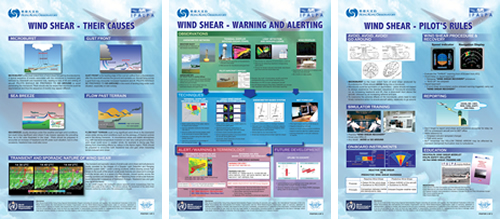 The set of three new wind shear posters jointly developed by HKO, IFALPA, WMO and ICAO