Using aircraft to collect data of tropical cyclones
27 June 2011
The Observatory collaborates with the Government Flying Service (GFS) to use its fixed-wing aircraft for collecting meteorological data in the vicinity of Hong Kong. On 22 June when Tropical Storm Haima affected the northern part of the South China Sea, for the first time the fixed-wing aircraft flew near the centre of the storm, collecting unique data including wind and pressure up to 20 readings per second. Such data are helpful in determining the strength of the storm and supporting decision-making in the provision of public weather service.
Captain Eric Leung who took part in the flight said: "We are proud to be part of the team in investigating the intensity of the tropical cyclone. We are pleased to learn that the collected data had been useful to the Observatory in formulating the weather forecast."
The Observatory will continue to collaborate with GFS to collect meteorological data over the northern part of the South China Sea using aircraft, in order to fill in the data void in this region.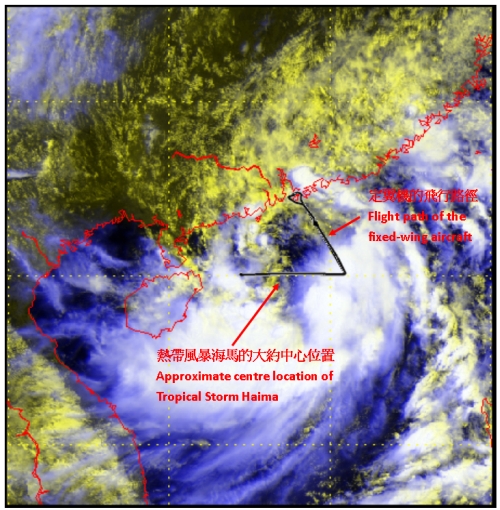 The flight path of the fixed-wing aircraft on 22 June (black lines), overlaid on the visible satellite imagery at on that day. It could be seen that the aircraft had once flown very close to the centre of Tropical Storm Haima.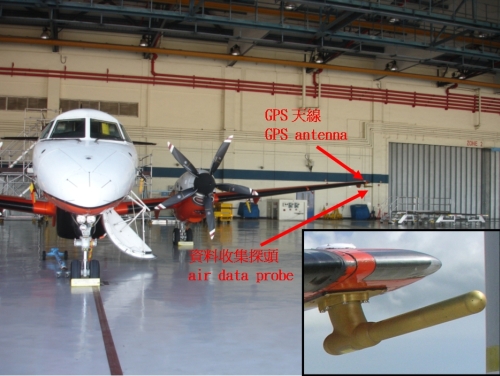 The meteorological measuring system installed on the fixed-wing aircraft, with the inset showing the air data probe.