Tenth Meeting of the Liaison Group for the Shipping Community
16 July 2019
Members of the Hong Kong Observatory Liaison Group for the Shipping Community met for the tenth time at the annual meeting on 27 June 2019. A total of 27 representatives from cruise and shipping companies, container terminal operators, the Hong Kong Shipowners Association, the Hong Kong Pilots Association Ltd. and the Marine Department attended the meeting.
Prior to the start of the meeting, Mr Shun Chi-ming, Director of the Hong Kong Observatory, presented awards to a number of outstanding Hong Kong voluntary observing ships in recognition of their efforts in taking weather observations at seas in 2018. A total of eight ships, namely, Dapeng Moon, Dapeng Star, Dapeng Sun, Min Lu, Min Rong, Shen Hai, OOCL France and SuperStar Aquarius, received the "Diamond Award" for having contributed 500 or more weather reports last year. OOCL Luxembourg, OOCL Berlin and Maersk La Paz received the "Platinum Award" (400+ reports contributed), whereas OOCL Tokyo and Star Pisces received the "Gold Award" (300+ reports contributed). Mr Shun also presented certificates of appreciation to OOCL Savannah and OOCL Nagoya for their assistance in deploying two drifting buoys in the western Pacific Ocean and the South China Sea respectively to take measurements of atmospheric pressure and temperature over the sea surface during the typhoon season in 2018.
The Observatory announced at the meeting the launch of a new service – the "MyOceanWx – Automatic Sea State Forecast" webpage dedicated for the shipping community. Based on the outputs of a high-resolution numerical wave prediction model suite operated by the Observatory, the new webpage provides detailed forecast of significant wave height, peak wave period and swell for the next four days over the western Pacific Ocean, South China Sea and the Indian Ocean. The Observatory also extended invitation to all members of the shipping community to take part in the trial of "MyOceanWx On Demand", a free marine weather information delivery service via email system introduced in 2018. Members of the shipping community who are interested in the above services are invited to contact us for more details (email: hkopmo@hko.gov.hk).


Mr Shun Chi-ming, Director of the Hong Kong Observatory (fourth from left), presenting awards to the outstanding voluntary observing ships in 2018



Group photo of participants of the Tenth meeting of the Liaison Group for the Shipping Community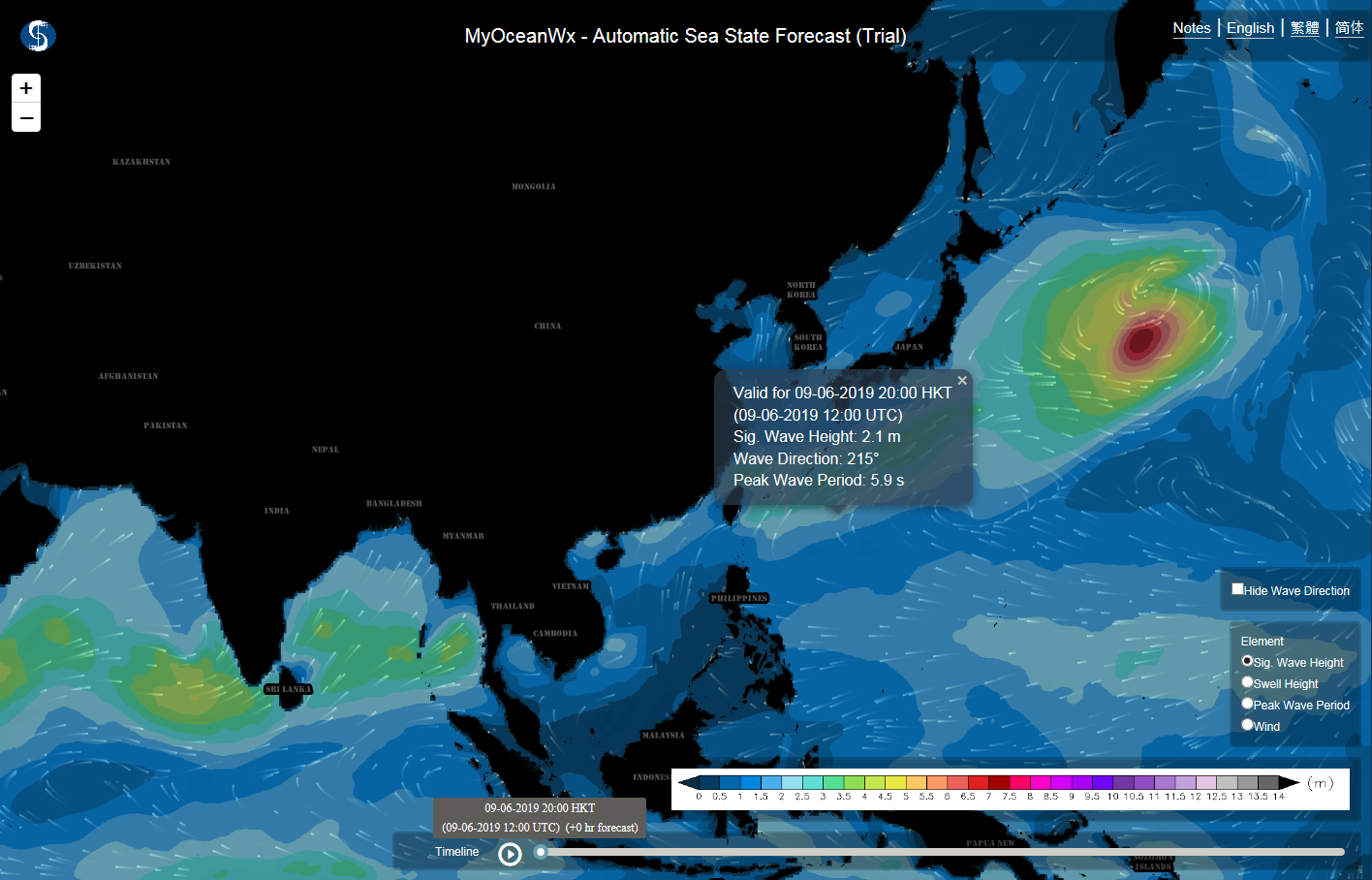 MyOceanWx – Automatic Sea State Forecast" webpage