Innovative Airport Thunderstorm and Lightning Alerting System (ATLAS) won 2009 Civil Service Outstanding Service Award
9 October 2009
ATLAS, an operational lightning alerting system developed for the Hong Kong International Airport (HKIA) by the Hong Kong Observatory, won the First Runner-up under the category "Specialised Service" of the above award scheme. It also won a "Special Citation (Innovation)" award under the same category. These awards were presented to the Observatory in a ceremony on 29 September 2009 officiated by Mr. Henry Tang, Acting Chief Executive of the Hong Kong Special Administrative Region.
ATLAS provides real-time lightning alerts to the airport authority, ramp operators, airlines and other airport personnel at HKIA. It integrates weather radar and lightning location data using innovative methods to forecast the movement of lightning strokes. When lightning is predicted to occur over the airport, visual and audible warnings will be issued so that the airport personnel could take timely protective measures. ATLAS outperforms the old airport lightning warning system by significantly increasing the hit rate of lightning strokes and reducing false alarms. Mr. Ringo Chui, Vice-chairman of the Airline Operators Committee in Hong Kong, pointed out that ATLAS was "much more accurate than the old system".
Apart from the above award scheme, ATLAS had also won a Silver Award in the category "Best Public Service Application (Small Scale Project)" of the Hong Kong Information and Communication Technology (ICT) Awards in February 2009. These awards represent recognition by government and professional bodies of the Observatory's employment of cutting-edge technologies and achievements in providing world-class aviation weather services.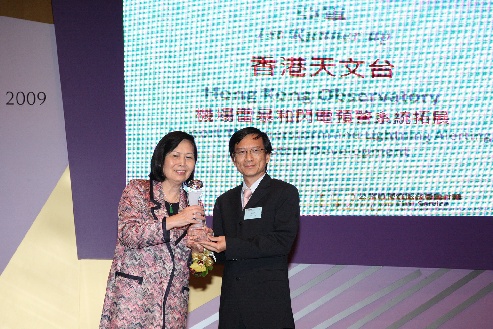 Dr. PW Li, Scientific Officer of the Hong Kong Observatory, receiving the First Runner-up award from Ms Christina Ting, Chairman of Eastern District Council of Hong Kong, one of the adjudicators for the 2009 Civil Service Outstanding Service Award Scheme