10th anniversary of Hong Kong Observatory and Civil Aviation Administration of China signing memorandum on co-operation
22 April 2009
The Hong Kong Observatory (HKO) and the Air Traffic Management Bureau (ATMB) of the Civil Aviation Administration of China (CAAC) signed a "Memorandum on Long Term Technical Cooperation in Aviation Meteorological Services" ten years ago (21 April 1999).
The cooperation between HKO and CAAC has been ongoing for many years. The memorandum further promoted aviation meteorological development and exchanges in both places. In the past decade, the senior management of both services met once every two years to review the cooperation and make plans for the future.
The most recent senior level meeting was held on 5 March this year, during which both sides agreed to strengthen further the sharing of meteorological data and technological exchange activities. A cooperation mechanism was also established to jointly study aviation meteorological subjects relevant to the Pearl River Delta. The Observatory also accepted an invitation to support ATMB's work in establishing low-level windshear alerting systems and numerical weather prediction system in the Mainland.
Operational personnel from both places also have regular exchanges on technical matters, the last one being the "Seminar on low-level windshear alerting technology" organized by ATMB during 20-23 October 2008. Experts from the Observatory were invited to lecture at the seminar, presenting the Observatory's experience in providing windshear and turbulence alerting services for the Hong Kong International Airport.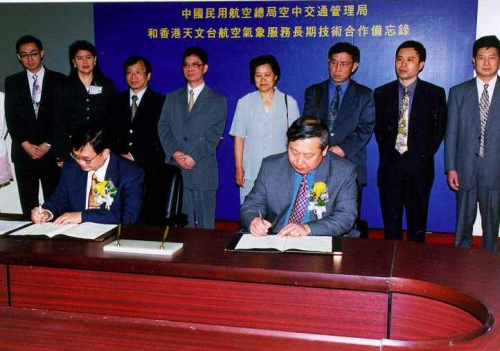 Signing of the memorandum ten years ago took place at the Hong Kong Observatory. Dr. Lam Hung-kwan, ex-Director of the Hong Kong Observatory, and Mr. Li Hui-bin, ex-Director of the Meteorological Division, represented the Observatory and ATMB respectively in signing the memorandum.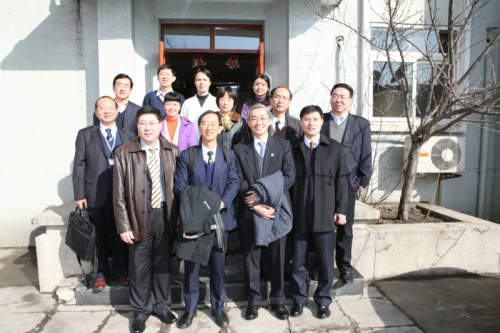 Ex-Director of the Hong Kong Observatory, Mr. Lam Chiu-ying and Assistant Director, Mr. Shun Chi-ming, photographed with ATMB representatives before the senior level meeting held in Beijing this March.