1883-1933: Equatorial & Transit Circle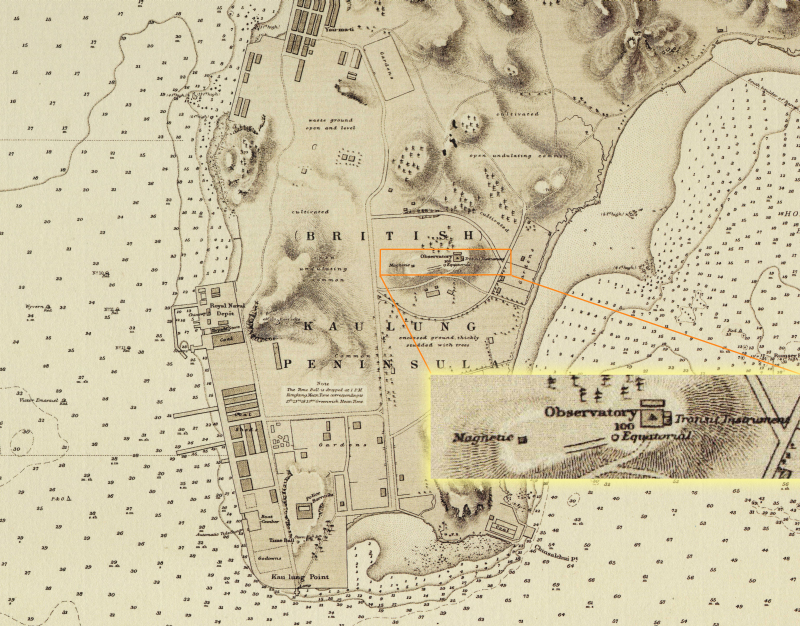 (Source: Mr. Shun Chi-ming)

Nautical chart of Victoria Harbour, Hong Kong from 1886 to 1887, clearly showing the location of the Observatory. The respective locations for measuring magnetic variation, taking astronomical observations by the equatorial telescope, and determining the time by the transit telescope at the Observatory are marked "magnetic", "equatorial" and "transit instrument".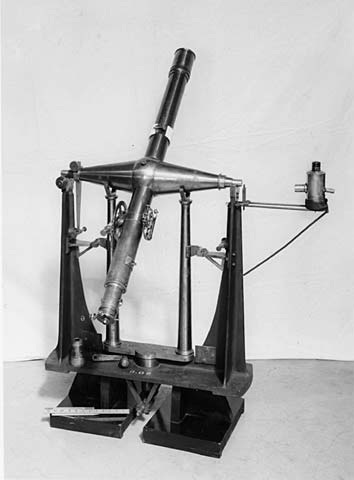 (Source: CalaisAlumni.org)

Similar type of Transit Circle used by the Observatory for determining the time with astronomical observations in the 19th century. The Transit Circle used by the Observatory was removed by the Japanese during the Second World War.
(Source: United Kingdom Science Museum)

Six-inch Lee Equatorial telescope, which was acquired by the Greenwich Royal Observatory, was transferred to the Hong Kong Observatory in 1885 for astronomical observations. It had been used for observing Jupiter and its Satellites, Saturn and its Rings, and the passage of Halley's Comet in 1910 by the Hong Kong Observatory. The telescope was returned to the Greenwich Royal Observatory in 1914 and is now being kept by the United Kingdom Science Museum.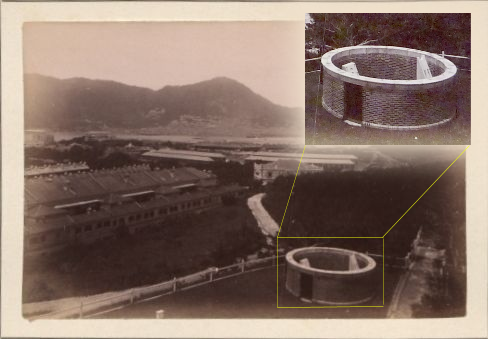 (Source: UK National Archive)

An early picture viewed towards the southwest from the 1883 Building at the Observatory. The circular structure in the photo is believed to be part of the Equatorial dome for housing the Lee Equatorial. The left hand side shows buildings of Knutsford Terrace at that time. The inset (Courtesy: Gwulo: Old Hong Kong) shows a closer look of the circular structure. The metallic frames in white inside are believed to be used for supporting the Lee Equatorial.
The circular structure was used for housing physical tropical cyclone signals during 1920s to early 1930s before demolition in July 1933. The site was then used for building the Directior's quarters.