Numerous Stars Accompanying Dark Moon
Astronomical Photo Album on the Web
To foster interests of the public on astronomy, the Hong Kong Space Museum and the Hong Kong Observatory cooperate to compile an astronomical photo album on the web. Various kinds of astronomical photos are taken with the iObservatory at Lady MacLehose Holiday Village of the Space Museum, telescopes of the Observatory and other instruments, and are publicised through the Observatory's website.
Numerous Stars Accompanying Dark Moon
(Please click on the image below for a high-resolution photo.)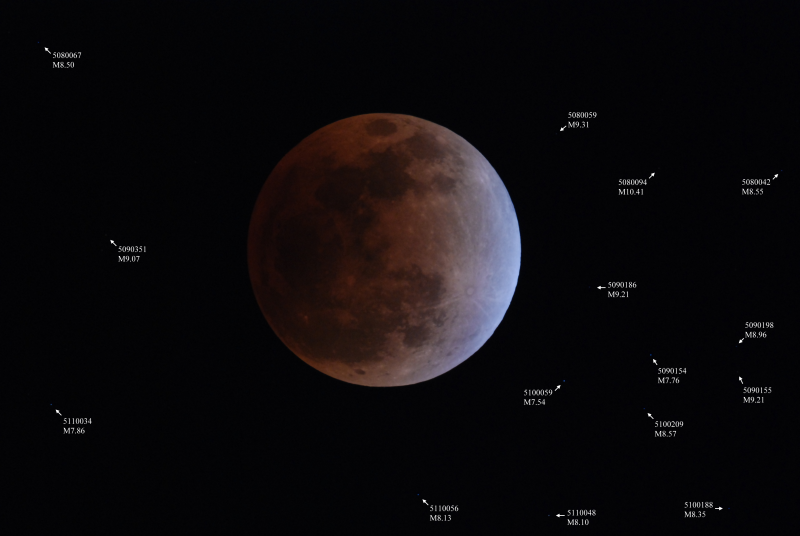 During a lunar eclipse, the Moon is significantly dimmed with sun rays largely blocked by the Earth, causing dark stars normally invisible in full moon distinguishable. The above photo was taken by the Observatory's staff on the rooftop of the Centenary Building of the Observatory during the total lunar eclipse on 10 December 2011. The equipment used was a telescope of 100 mm in diameter and 900 mm in focal length, fitted with a Digital Single Lens Reflex (DSLR) camera in the setting of ISO 800 and an exposure time of 1.3 second. The arrows indicate the SKYMAP catalogue numbers and the magnitudes (luminosity) of the stars.
Extended Browsing: