Total Lunar Eclipse on 10 Dec 2011
Astronomical Photo Album on the Web
To foster interests of the public on astronomy, the Hong Kong Space Museum and the Hong Kong Observatory cooperate to compile an astronomical photo album on the web. Various kinds of astronomical photos are taken with the iObservatory at Lady MacLehose Holiday Village of the Space Museum, telescopes of the Observatory and other instruments, and are publicized through the Observatory's website.
Total Lunar Eclipse on 10 Dec 2011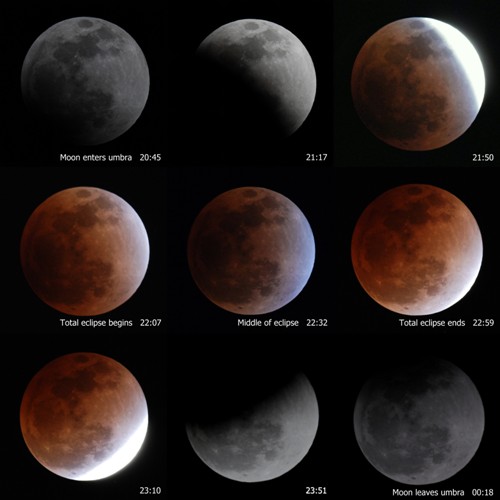 The above images were taken by the Observatory's staff with a telescope of 100 mm in diameter and 900 mm in focal length on the rooftop of the Centenary Building of the Observatory at various stages during the total lunar eclipse on 10 December 2011. During the eclipse, the shadow of the Earth gradually covered the moon and started to depart after Middle of the eclipse. During totality, as sunlight scattered or refracted by the Earth's atmosphere was projected onto the moon, the moon did not disappear but appeared coppery-red in colour although it was entirely inside the Earth's umbra.
Extended Browsing:
Main Page of Astronomical Photo Album on the Web